Novotel London Tower Bridge Hotel, 10 Pepys Street, London, United Kingdom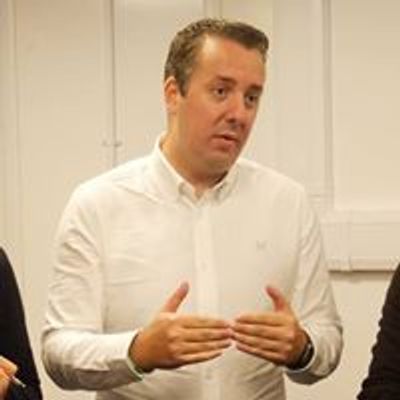 James Nicholson
Spread the word
If You're Serious About Using The Internet In Any Form At All For Your Business, You Need To Read This.
(And If You're Not, Good Luck Building A Successful Business In The 21st Century!)
Half Day Event In Central London,
With The Internet Comes Huge Opportunity To Accelerate Your Business Growth. Are You Maximising It? This FREE Seminar Will Show You How…
Learn how to create a buzz around your business online and establish your presence on the Internet.
Understand exactly what you need to do to make money online with the services and products you provide.
Discover advanced techniques that'll help you leverage the power of Facebook to drive leads and sales.
Learn how to effectively optimise your paid traffic campaigns to bring in affordable traffic that generates you return on investment. 
Uncover the Internet marketing strategies that you simply HAVE to be utilising if you're serious about business growth.
FREE 1/2-Day Internet Marketing Bootcamp with James Nicholson (Yes, it really is free)
Let's be blunt: if you're in any way serious about growing a business in the 21st century, then this half day seminar is one that you simply can't afford to miss.
We'll be deep diving into the world of internet marketing, equipping you with the tools needed to navigate the stormy online waters and sail your ship towards success.
SEO, Ecommerce and Facebook Advertising will all be on the agenda, as you learn:
How to find your target customer online
How best to reach and convert your audience into red hot leads
Advanced strategies for converting your leads into customers, clients and cash.
Here is what you will learn at the Internet Marketing Bootcamp:
1) First up is SEO whizz James Nicholson, talking to you about how utilising search engine optimization could be the smartest thing you do for your business this year. He'll be sharing his insider knowledge to help you immediately amp up the visitor count to your website by hitting the low number pages on Google.
Not sure whether you should come? If any of these five descriptions sounds like you, you should DEFINITELY come:
You've just launched a new business, or you're about to and you've no idea where to begin when it comes to marketing online. 
You're an established business and want to ensure that your advertising and marketing campaigns are properly scaled to your size and expected growth. 
You've not yet implemented or seriously considered an online campaign and could use some insight into how to start and what to do.
You're finding yourself going through periods of feast and famine when it comes to drawing in repeat business, and need to establish an automated system that generates a consistent stream of leads and customers.
You're already using online marketing as a part of your business, but you know you're not doing enough of the right stuff.
Here's who it's NOT for:
People who aren't prepared to implement. We're offering a limited number of FREE tickets to business owners prepared to learn, implement and succeed. If that's not you, then stay at home.
People who think they know it all. We've all got room for growth, and there's no chance you won't learn something new at this bootcamp, so come with an open mind and a sharp pencil.
Those who haven't got a business or have no intention of starting a business. This isn't an event for people with a laptop and a dream that'll always remain unfulfilled – it's for action takers.
Let's Talk Logistics…
The Internet Marketing Bootcamp takes place in Central London.
We have a morning and an afternoon session, this allows you to get stuff done in the office in the morning and pop along for the afternoon.  Or come and see us in the morning before you head to the office. 
It'll be pretty full on half day, so we recommend you get some rest the night before and come prepared to learn and implement. 
In addition to the presentations from the experts, there'll also be plenty of people on hand to help you, should you have a question or you need some help to get something implemented that you've learnt about on the course.
What should I bring?
Yourself.  A keen and alert mind. A notepad, and a laptop or tablet if you fancy. 
That's it. 
Who Are You Learning From?
James has built his own hugely successful product and service businesses, making millions in sales along the way, and written books, designed courses and helped thousands of business owners to make more money and build better businesses.
These days James focuses on helping businesses to build in systems and processes that allow them to scale quickly and sustainably, whilst also coaching his private clients on the intricacies of online marketing.
During the Internet Marketing Bootcamp, he will take to the stage and share their experiences and their wisdom as well as their tactics and strategies to help you become more successful in a changing, turbulent economy.
Why Attending the Internet Marketing Bootcamp Is the Biggest No-Brainer Of 2019
1) You'll learn from some of the smartest marketers in the UK
James Nicholson & Jessen James have sold millions of pounds worth of products online, so it's fair to say that they know more than a thing or two about what it takes. They will be dispensing their hard won experience at the Bootcamp, and wherever you're at in business you'll learn something you can deploy pretty much straight away to make your business more successful.
2) No attendance, no lightbulb moment.
You know when someone says something that just suddenly makes everything else make a lot more sense? When you hear something that you know can have a profound impact on your business. That's the sort of moment the Internet Marketing Bootcamp can provide. But not if you don't come. Simple as that.
3) Rub shoulders with other business owners
Coming together with other business owners is a really beneficial thing for many reasons. For a start, you'll get ideas from talking to people in the same boat as you. You'll also get the opportunity to network and discuss potential joint ventures. And in case you'd forgotten…
4) …It's FREE
Attendance at the Internet Marketing Bootcamp won't cost you a penny. Nothing. Zilch. Nada.
Why not spend just ONE day learning from the experts for FREE and learn skills that'll ensure that you can spend hundreds of days in the future enjoying the fruits of your labour?
We have a batch of tickets to the Internet Marketing Bootcamp we've kept aside to give away for free – and you can grab one NOW. But be quick, there's only a limited number available:
So what are you waiting for? Get your ticket now. 
Seriously, do it now. You'll regret it if you don't. Click the big orange button, secure your seat and we'll see you soon – it's going to be a day you'll never forget.
P.S - A HALF DAY-WORTH of absolutely priceless knowledge on Internet Marketing - you'd be crazy to let that slide! 
Pick up your FREE ticket to the Internet Marketing Bootcamp before you miss out on the leading experts giving away YEARS of experience and insight!