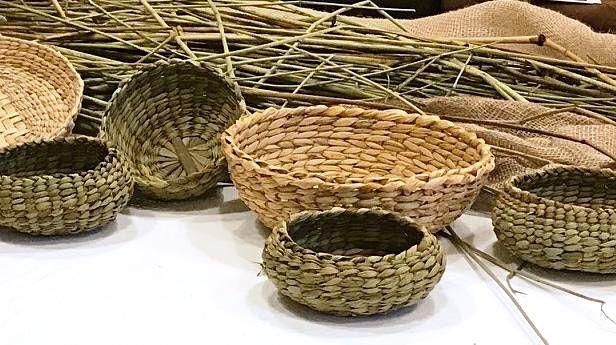 Paradise Co-operative, 19 Heathfield Road, London, United Kingdom
Eventbrite
Spread the word
Introduction to rush basket making at Paradise Cooperative, Wandsworth, London.
About this Event
Introduction to rush basket weaving at Paradise Cooperative, Wandsworth, London
Sunday 18 September 2020
10am-5pm
£130
Over 18s only
Founded in 2014, Paradise Cooperative is a registered charity in Wandsworth that stewards under-used land for urban growing and community gardening. We are based at Dobbins Field, opposite Wandsworth Pr*son.
Paradise Cooperative is developing a series of hands-on educational workshops as part of a wider community events programme.
We are very lucky to have John Page teaching this workshop for us. John is a renowned basketry instructor, and is a Yeoman of the Worshipful Company of Basket Makers.
In this workshop you will learn how to choose suitable rushes from a pre-prepared bundle and how to make a square check-weave base. You will then pair, or twine around this base, forming it in to a circle, like a table mat. Once this is the size it is tied on to a mould (probably a plastic bowl) and worked up the sides until reaching border height. The border will be a simple thread-away or a more involved rod border, depending on your confidence. The course leader will bring samples.
The only tools needed are a pair of scissors and a threading tool. We will provide these but people can bring their own scissors if they feel more comfortable with them.
An apron might be a good idea as rush can be a little grubby.
The class size is limited to 5, which with one teacher, will comply with the Rule of 6.
We will be working outside, under cover of our huge new tarp, but we are still taking the risk of COVID-19 very seriously. We will have separate work stations, observe 2 metre distancing, and while masks are not obligatory, you are certainly welcome to wear one. We will provide hot water for tea or coffee, but ask participants to bring their own cups, water bottles, and prepared lunch.
iCause.com promotes public events for free and helps event organizers connect with nonprofits to attract more participants like you.
Additionally, the iCause Global Foundation enables good people to fund great causes around the world. Together, our impacts are limitless!