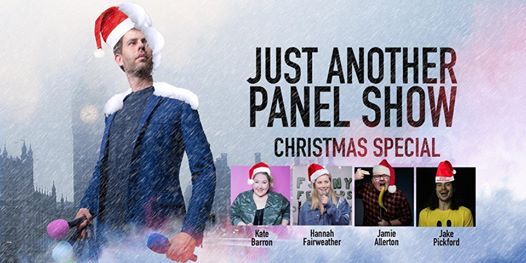 Comedy East, 1 Mile End Rd, E1 4TP London, United Kingdom, London, United Kingdom
Facebook
Spread the word
The Christmas Panel Show Special!
Sick of the office Kringle? Christmas tree getting more attention than an inanimate object deserves? Blocking your ears as you shop in Tesco?
Celebrate a little bit of anti-Christmas cheer!
Comedy East presents Just Another Panel Show, a new live comedy event and podcast recording from Pete Wells, one half of the sketch comedy duo And Wells.
Hosted by Pete Wells. Watch comedians Kate Barron and Hannah Fairweather VS Jamie Allerton and Jake Pickford go head to head for the coveted Just Another Audio Trophy (a ringtone anyone would be proud to download in 2004).
Plus, there'll be a special appearance by your narcissistic Santa – Andy Bucks – that you won't want to miss.
Team Scrooge
Kate Barron
Kate is a London-based stand-up comedian and writer, and has performed across North America and the United Kingdom. Kate has opened for Saturday Night Live's Sam Jay and Chris Redd, Comedy Cellar Regular Nathan Mackintosh, The Late Show with James Cordon writer Eliza Skinner, and Last Comic Standing's James Adomian to name a few.
Hannah Fairweather
Rising Star New Comedian of the Year 2019, and BBC New Comedian , So You Think Your Funny, and ISNC Semi-Finalist 2019.
VS
Team Grinch
Jamie Allerton
2016 Liverpool Echo New Comedian Finalist 2017 SYTYF semi-Finalist 2018 Max Turner Finalist Host of WTD Comedy "Where the other stand up sets held the stage, he owned it. A flurry of energy with a clever routine" – BroadwayBaby
Jake Pickford
Jake Pickford has been performing comedy around the world for many years. He loves to make other people laugh almost as much as he likes to make himself laugh. He's done rather well in some competitions you haven't heard of. Outside of comedy Jake enjoys short, intense walks on the beach and relaxing with a hairdryer by the pool. Live life on the edge. That way, you'll always know how close you are to falling down.
You make me laugh....Great Timing" - Seann Walsh "Hilarious" - Mark Dolan "Weird but relatable and funny" - Luisa Omielan
You can listen to the podcast on Spotify, Apple, and acast.
It's stand up. It's stupidity. It's Just Another Panel Show at Comedy East!
COMEDY EAST - A COMPLETE NIGHT OUT
Eat before, after, or even during the show!
Choose from a great selection of food and drink specials, including a wide array of real ales from the White Hart's very own Mile End Brewery.