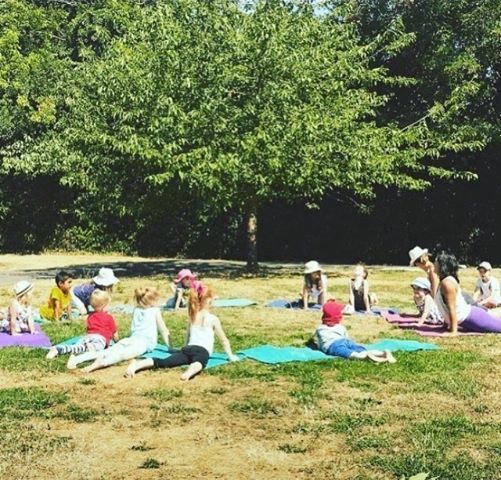 The Old Courthouse Cafe, Old Courthouse Recreation Grounds, Next to 29 Wood Street, Chipping, EN5 4BE London, UK, London, United Kingdom
Rose School of Transformational Yoga
Spread the word
Mondays at 10:30am
August 3rd, 10th, and 17th
Age: 3 – 7 year olds (Older children are welcome)
Yoga has so many benefits that can be incorporated into a child's development by giving them tools that will help them understand the elusive workings of their body and mind, through Asana's (postures), breathing, voice work and relaxation helping them to become more confident and focused.
My approach to yoga for children is to encourage it as a form of play, by creating stories to help guide the children through the poses and letting them use their imagination in how to accomplish them. By doing so, helps them to retain their flexibility and strength as they grow which they can use throughout their daily lives.
Cost: £5 child Booking is essential via
https://instabook.io/s1/stretchingpeople
(If booking for more than 1 please contact me directly as not sure booking system works for more than one person :))
Location: The Old Courthouse Cafe
Old Courthouse Recreation Grounds,
Just off Wood Street
Barnet
EN5 4BD
In light of COVID 19 this event will be limited to 15 children. I highly recommend booking in advance to guarantee your space, but if you can't do feel free to turn up on the day and if there are any places left your child will be welcome to it
PLEASE BRING YOUR OWN MAT/TOWEL/BLANKET per child or per siblings.
To limit numbers it really would be best if you child or children are happy to be left on their mat and the parent is able to be of to the side (with siblings that are not participating) - there are lovely hot drinks and snacks that you can partake of from the cafe.
Email:
Sunnahrose | hotmail ! com
Tel: 07941 321 772
iCause.com promotes public events for free and helps event organizers connect with nonprofits to attract more participants like you.
Additionally, the iCause Global Foundation enables good people to fund great causes around the world. Together, our impacts are limitless!