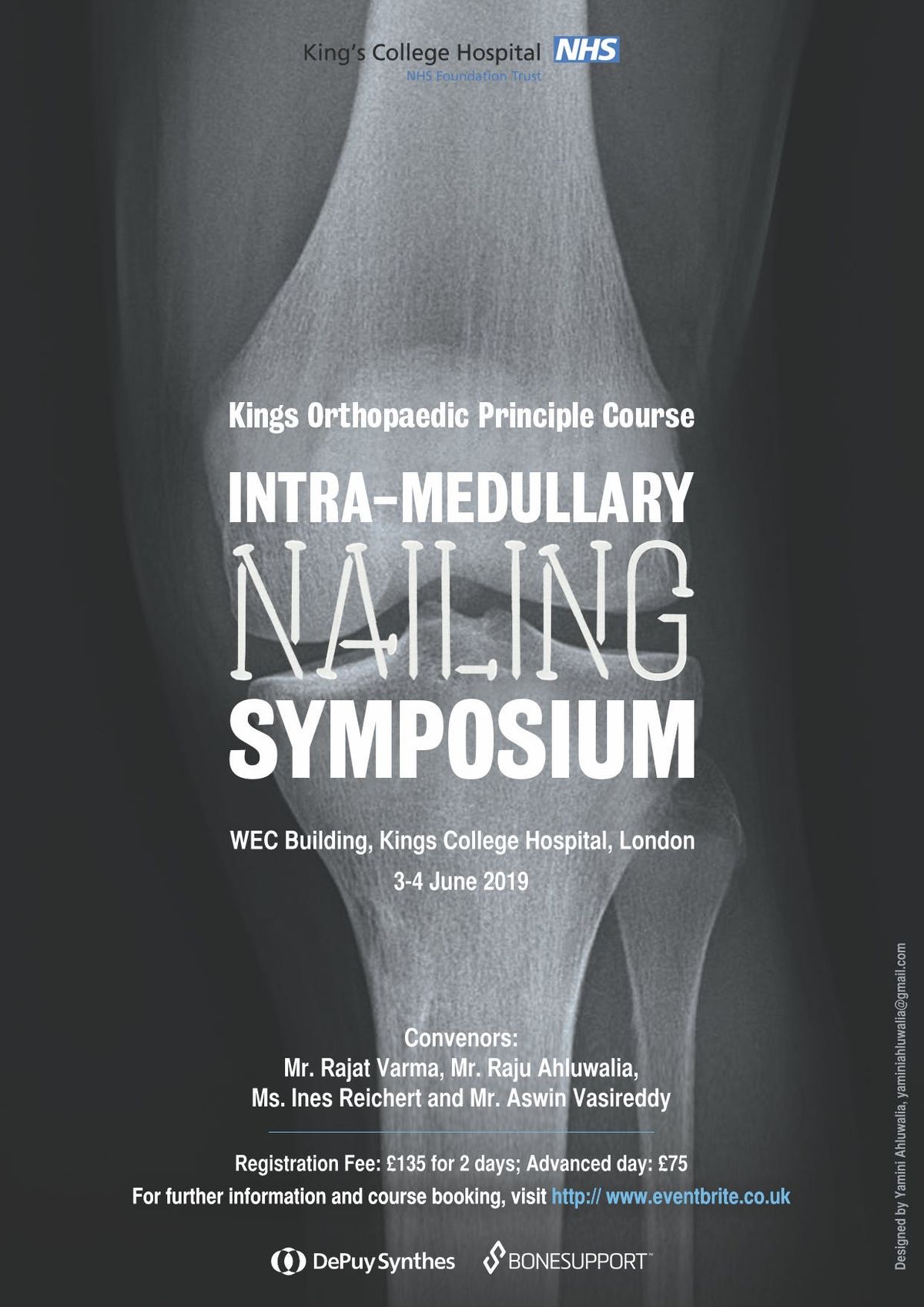 Western Education Centre, King's College Hospital , London, United Kingdom
Eventbrite
Spread the word
Welcome back for the next episode of the King's Im Nailing Symposium. This year the symposium will cover  a two-day instructional and advanced meeting for IM Nailing, in trauma and limb reconstruction.
Our faculty will include Prof. Heather Vallier from the USA (President Elect of the Orthopaedic Trauma Association (OTA) Leadership and Governance Group) will share her expetiences in early reconstruction in trauma and its place in damage control orthopaedics and open fractures and the managment of infection. National experts include Mr Enis Guryel, (Brighton) & Mr Om Lahoti (British Limb Reconstruction Society President Elect).    
Our expert faculty including most of King's Trauma Consultants will again disect the indications, selection of appropriate implant, tips & tricks of reaming and intramedullary nailing providing you with simple algorythms. Lectures will set the scene, but we will have small group teaching with workshops - surgical tips and pearls of wisdom will be practiced with experienced consultant trainers in workstations. Discussion will be based around case presentations allowing delegates to interact and to discuss complex cases and their optimum management. 
The second day will focus on the advanced techniques, enlived discussion will be based over expert techniques nad current  with complex cases and ratioalisation in decision making and review of extending the conept of IM Nailing and its pit falls. 
The course is suitable for trainees/ senior trainees who are developing their skills and consultants alike who have an interest in these procedures and trauma.
Provisional Program: 
0800-0830 Registration/Coffee
0830-0845 Introduction  (Overview of the course & King's History Level I Trauma Centre)
0845-0915 Orthopaedic "Early appropriate care" and the timing of surgery in the Polytrauma patient. 
0915-0945 Relationship between Implant Choice & Fracture Healing (How choice of nail / plate / fixator for any given metaphyseal fracture affects fracture healing and return to function for the patient)
0945-1015 Nailing Biomechanics (Understanding how nail composition, diameter, wall thickness and working length have implications on fracture healing and implant failure)
1015-1045 Reaming Concepts(Effects of reaming on blood supply to the periosteum and bone and their relationship to fracture healing) 1045 -1115 Locking Options / Blocking screws (Role, number and type of locking screws and blocking screws in simple and complex metaphyseal fractures of bone)
1115-1130 Tea/Coffee break
1130 – 1300 Breakout Session - Candidates rotate to 8 tables to have small group demonstration of specific competency by bone models / teaching x-rays.
Entry Point Proximal Femur (Discusses implication of GT / Piriformis fossa /too lateral / too medial entry point)
Entry Point Retrograde Femoral Nail 
Entry Point Tibia (Discusses entry point for suprapatellar and infrapatellar nailing and avoidance of anterior knee pain)
Entry Point, Shortening & Reduction in Hind Foot Nail 
Entry Point Antegrade Humeral Nail 
Cementing Neck Screw in femoral head in osteoporotic bone 
RIA (Reamer Irrigation Aspiration) Technique 
ASLS Screws 
1315-1400 Lunch
Nailing Complications & How to Avoid Them
1400-1420 Common Complications following Nailing
1420-1440 Ideal Femur Nailing  (10 Commandments for Femoral Nailing)
1440-1500 Ideal Tibial Nailing  (10 Commandments for Tibial Nailing)
1500-1520 Ideal Humeral Nailing  (10 Commandments for Humeral Nailing)
1520 – 1540 Ideal Paediatric Nailing for Femoral Fractures  (10 Commandments for Paediatric femoral Nailing)
1540-1600 Break 
1600 – 1640 Fix & Flap: IM Nailing in Open Injuries   (Understanding current guidelines in Orthoplastic care, the rationale for current trialse.g. FORTIFY; research, and evidence with interactive debate).
1640 - 1720 BJI - IM Nails in Managing Infection 
1720– 1800 Question & answers session
18.30 Onwards Course Drinks & Dinner
Day 2 – Advance Nailing
0800-0830 Registration/Coffee
0830 -0845 Nailing as part of Orthopaedic-Early appropriate care 
Proximal Femoral Fractures Chair: Mr. P Li
0845 - 0830 Limitations of DHS for fixation of proximal Femoral Fractures 
0900 - 0930 Principle of Nailing for Proximal Femoral Fractures 
0930 - 1000 Femoral Neck / Shaft Fractures – one or two implants 
1000 - 1030 Difficult Femoral Fractures – Augmentation (Cement / Metal) 
1030 - 1100 Femoral Nailing Reconstruction (Distraction-Osteosynthesis) 
1100-1115 Tea/Coffee break
Distal Femoral Fractures including intra-articular extensions – Debates - When / Why / How Chair: Mr. A Tavakkolizadeh
1115 - 1135 Antegrade Femoral Nailing 
1135 - 1155 Retrograde Femoral Nailing 
1155 - 1215 Locked Plating 
1215 - 1235 Free Debate with Cases Discussion
1235-1330 Lunch (Workshop for delegates)
Proximal Tibial Fractures including Schatzker VI Plateau Fractures – Debates - When / Why / How Chair: Mr. R Tahmassebi
1330 - 1350 Locked Plating 
1350 - 1415 Supra-patellar Nailing 
1415 - 1435 Ring Fixator 
1435 - 1500 Free Debate & Case Discussion
1500-1515 Tea
Distal Tibial Fractures including Plafond Fractures Debates – When / Why / How Chair: Mr J Compson
1515 - 1540 Antegrade Distal Tibial Nailing 
1540 - 1600 Locked Plating 
1600 - 1620 Ring Fixator 
1620 - 1640 Retrograde Hind Foot Nail in Acute Trauma 
1640 - 1700 Case Discussion
1700-1730 Q+A session, feedback/evaluation forms