White Collar Factory, 1 Old Street Yard Old Street, ec1y8af London, United Kingdom, London, United Kingdom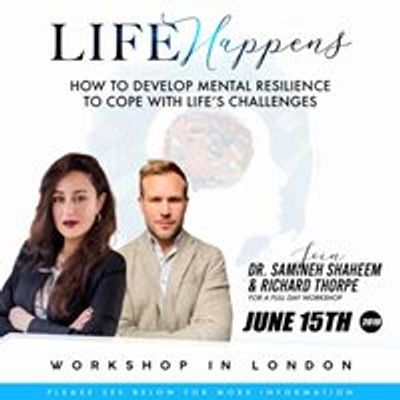 Life Happens Events
Spread the word
How to develop mental toughness as LIFE HAPPENS, so that you're better able to cope and enhance your personal and professional life!
Regardless of your personal situation and different pleasures and pains, this workshop is specifically designed to teach you a wide range of techniques and strategies that you can use as a tool to implement into your daily life.
Our day of learning together will enable you to:
- handle life's ups and downs more effectively
- improve your performance, leverage more positive behaviours and strengthen your resilience
- learn scientific and evidence based approaches that can be practically applied immediately
- personalize your experience by asking the experts questions to help your development journey
Throughout life, all of us experience a combination of delight and displeasure. We are exposed to pleasure and pressure from a wide range of angles and dimensions. Handled effectively, life can be fulfilling, controllable and predictable; handled poorly, our path will seem filled with obstacles and eventually our sense of wellbeing and levels of life satisfaction can be affected.
Benefits of Attending
To explore the importance of mindsets and how your world is shaped through those lenses
To gain beneficial tools which will enhance personal and professional aspects of your life
To develop new ways of seeing and approaching issues
To engage in practical and fun learning exercises
To learn how to better manage your internal ecology and thinking patterns
To develop strategies for increasing your resilience, mental toughness and self-compassion
To develop greater self-awareness
To have more clarity around how to better tap into your values and your voice
To live a life based on design rather than default
How is this Workshop Different to all Others?
This is a collaboration between experts in the field and people who want to make a difference by having a positive impact on individuals, the community, and organisations. You will be introduced to new concepts as well as learning the importance of DOING not just KNOWING.
Who are the Speakers?
Dr Samineh I. Shaheem is currently a Professor of Organizational Behavior and Leadership and Dean of one of the world's most innovative and global Business Schools. For the last 18 years, she has lectured on a wide range of courses such as Cross Cultural Psychology, Social Psychology, Leadership, Learning, Development, and Global Management. She has been a keynote speaker at a number of global conferences, a featured author 2 years running at the prestigious Emirates International Literature Festival and a regular contributor to the Huffington Post. She has studied and worked in different parts of the world, including the USA, Canada, the Netherlands, the United Arab Emirates and the UK. Dr Shaheem appreciates the importance of cultural relativity and tries to find both similarities as well as significant cultural variations in human cognition, emotions and behavior. After all, differences should not be deficiencies.
On International Women's Day 2019, Dr Shaheem was recognized by the Mayor of London for her extraordinary contribution to London and she would like to continue sharing her 20 years of experience in the space of transformative development, through scientific research and valid methodologies, so that more people could achieve greater clarity and contentment in their life. Please click here to see her TedX talk:
Richard Thorpe is the Managing Director of Transition Coaching. After a 13 year career playing Premiership & International Rugby, Richard made the decision to retire from professional sport and step into his property investment company full time. However, 18 months later he found himself struggling to get out of bed in the morning. He had pulled away from his friends and family, and despite everything in his life going well, he felt hopeless. But this was familiar territory for Richard. Having faced challenges earlier in his life, coupled with his studies in psychotherapy and psychology, he was able to recognise that he was struggling with his identity, purpose, and values. During this period, Richard reshaped his life, and built a new business that would empower others facing life's inevitable challenges to identify their purpose & values, build resilience, and reach their potential. This business was Transition Coaching. Visit for more information:
www.transitioncoach.org
AGENDA:*
Registration (Tea/Coffee/Pastries served)
9.00am - 10.00am
SESSION 1 with Dr Samineh I. Shaheem
10.00am - 11.30am
Break (Tea/Coffee/Snacks)
11.30am - 11.45am
SESSION 2 with Dr Samineh I. Shaheem
11.45am - 1.00pm
Lunch (provided) & Reflection activity
1.00pm - 2.00pm
SESSION 3 with Richard Thorpe
2.00pm - 3.15 pm
Break (Tea/Coffee/Snacks)
3.15pm- 3.30pm
SESSION 4 with Richard Thorpe
3.30pm - 4.15pm
Break (Tea/Coffee/Snacks)
4.15pm - 4.30pm
Q&A with Dr Shaheem & Richard Thorpe
4.30pm - 5.30 pm
*Agenda subject to modification
Please email:
ImpactEvents11 | gmail ! com
with questions or comments
FAQs:
Are there ID or minimum age requirements to enter the event?
18+
What are my transportation/parking options for getting to and from the event?
Old Street Tube Station
What can I bring into the event?
You are welcome to bring paper and take notes. Please do not record the speakers or guests without prior approval. Phones must be on silent.
How can I contact the organizer with any questions?
Please email:
ImpactEvents11 | gmail ! com
What's the refund policy?
Please email us at least 24h before the event and we will process a refund minus paypal processing fees which do not get refunded to us.
Do I have to bring my printed ticket to the event? Are tickets available at the door?
No, email confirmation is sufficient. You may purchase tickets at the door unless we sell out.
Is my registration fee or ticket transferrable?
Sure, just send us an email so we can update the name for security attendance and our records.
Is it ok if the name on my ticket or registration doesn't match the person who attends?
Yes, but please email us with the name change.
Can I purchase a ticket for someone else to attend?
Yes of course, please include their name when checking out.
#mentalhealth #wellbeing #resilience #stressmanagement #anxiety #selfimprovement #selfawareness