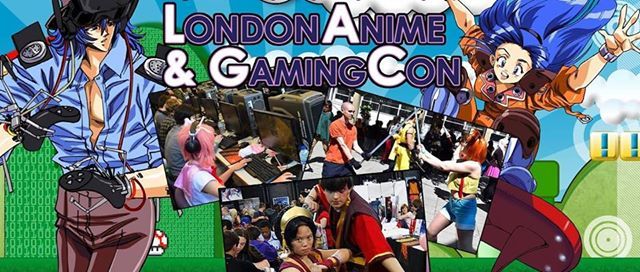 London Metropolitan University, 166-220 Holloway Road, N7 8 Islington, London, United Kingdom
London Anime Con.
Spread the word
Back, bigger and better than ever with a massive guest lineup planned! There will be COSPLAY, GAMING, ANIME, COMICS, LIVE MUSIC & PARTIES from the morning through to midnight each day.
Tickets at just £29 for all three days or from just £9 are going very fast, so we suggest to get yours asap at
https://www.londonanimecon.com/register.php
.
Tickets are also available on the door, but make sure to get your tickets now online for a discount (Standard pricing is £10 for Friday, £18 for Saturday, £15 for Sunday).
London Anime & Gaming Con has a top guest lineup planned of celebrity voice actors, youtube stars and big names. Guests of honour include voice actors, youtube stars and big names, with two voice actors already confirmed in Tia Ballard and Felecia Angelle (voiced in over 100 anime and video games) and many more still to be revealed. Top performers doing live concerts include the likes of Lele, Re:Make and Jollyboat. This doesn't even count three whole stages of content, a dozen gaming tournaments including Smash Ultimate, League of Legends and Overwatch with £100 cash prizes, cosplay contests with nearly £1000 worth of prizes at stake, talent show, easily over 50 stalls of anime and geeky merchandise, pub quiz and much more. Gamers will also be massively catered for with multiple Gaming Zones offering a choice of 200+ games from the 80s, 90s through to the present day. You can view the provisional timetable at
https://www.animeleague.net/forum/showthread.php?120944
and the guests of honour at
https://winter.londonanimecon.com/guests.php
MAIN GUESTS;
We have over 40 guests, speakers, cosplayers, youtube stars, performers and live-bands. These include the following guests of honour;
Tia Ballard has been a voice actress in over 50 anime and gaming series, whose roles include Happy the Cat in "Fairy Tail", Zero Two in "Darling in the Franxx", Rinko in "My Love Story", Nanami in "Kamisama Kiss", Rea in "Sankarea", Beast in "Black Butler: Book of Circus", and Shao May in "Fullmetal Alchemist" and many more.
Meanwhile Felecia Angelle has been a voice actress in over 50 titles. Her work includes The Hero Emilia/ Emi Yusa in The Devil Is A Part-Timer!, Perona in One Piece, Shinoa in Seraph of the End, Supreme Kai of Time in Dragon Ball: Xenoverse, Aoi Asahina in Danganronpa: The Animation and Alex Bendetto in Gangsta, Shalltear Bloodfallen in Overlord, Fubuki in Kantai Collection and Lynne in Attack on Titan and many more.
LELE - With over a quarter of a million fans LELE's J-Pop and Electronica music has been featured worldwide alongside some of the largest names in anime. LELE's own unique blend of Japanese Pop and Electronica has been well received by fans worldwide and has been a SMASH hit success around the world with stunning performances across Australia and Japan. Her music can be found in anime commercials and heard alongside interviews with some of the largest names in voice acting.
We have more famous Voice Actors, internet celebs and Cosplayers to reveal, so make sure to stop by as we reveal our guest lineup in the next few months.
HIGHLIGHTS INCLUDE;
- Top Voice Actors
- Over 50 Stalls of Anime & Geeky Exhibitors/Merchandise
- Cosplay Championship with £250 top prize, and two additional Cosplay Masquerades with top prizes too
- Anime Cinema
- £100 Cash Prize Video Gaming Tournaments including Smash Ultimate, League of Legends, Overwatch and many more.
- Retro Gaming Lounge with your favourite 80s and 90s consoles
- PC and Indie Gaming
- Gaming Stage Events and Talks
- Over 100 top Boardgames in our Tabletop Zone
- RPG Gaming and TCG Gaming
- Complimentary Cosplay Photography with optional paid prints
- Three Stages of Events - Nearly 100 events/talks across the three days from 11am to past midnight
- Manga Workshops & Artist Alley
- Expert Cosplay Talks including talks on community, costume-design, prop-making, modelling, performance, photography and much more.
- Many more events to participate in on stage from the serious to the fun including a Talent Show, Cosplay Blind-Date, Big Geek Quiz, Lip-Sync Battle, Big Geek Raffle, Speed-Running Contests, Retro Gaming Challenges, Fashion Show and much more.
- Live Concert Nights with top bands including Re:Make
- Parties till late including late-night Karaoke
View the Full Highlights @
https://winter.londonanimecon.com/activities.php
Tickets are available now at
http://winter.londonanimecon.com/register.php