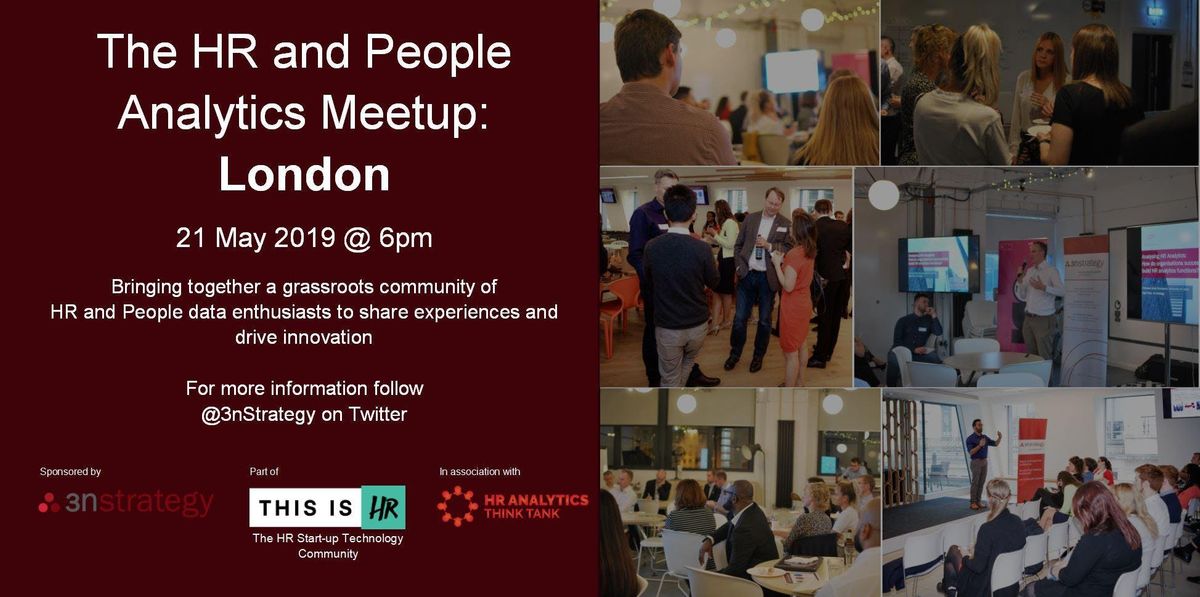 Runway East Moorgate, 10 Finsbury Square, London, United Kingdom
Eventbrite
Spread the word
We're meeting again in May for a London HR and People Analytics meetup with an exciting line-up of HR and non-HR data speakers. As always, we will follow our usual format of sharing two HR data stories, and one inspirational (or at least interesting) non-HR data story.
Are you an HR data enthusiast and want to meet other people with real stories? Are you interested in chatting about the future of analytics about the workforce, and hearing about what non-HR data scientists are doing? Are you a non-HR data scientist who is curious about HR data and practices? Please come along.
To keep up to date with events and other announcements, please sign up to the meetup mailing list here for alerts.
Not been to an HR and People Analytics meetup before? 
As always our aim to bring together a community of HR and non-HR data enthusiasts in order to share stories and experiences from the HR and People Analytics industry. We have four guide lines for the sessions:
If you're in the room, you are agreeing to be treated as an HR data enthusiast. If you aren't sure, maybe visit
www.forum.hranalyticsthinktank.com
.
This is NOT a conference, so don't treat it like one! It won't replace the need to do formal networking, and you shouldn't expect it to.
There is no wrong question OR answer – today is not about shiny presentations and success stories. Ask any question you want (about analytics).
Innovation comes from people talking – Please talk to as many people as you can. Whoever you are, the more people who speak to each other, the more likely we will find ways to drive innovation in the HR/people analytics space.
Please click the video below to see previous sessions:
Or visit 
https://www.forum.hranalyticsthinktank.com/discussion/24/check-out-this-video-from-the-london-hr-and-people-analytics-meetup-in-may/p1
/>

Please note: The event is usually filmed and/or photographed for use by 3n Strategy and the HR Analytics ThinkTank for promoting and sharing the events. If you are unhappy with your image being recorded or captured please alert 3n Strategy before the beginning of the session.