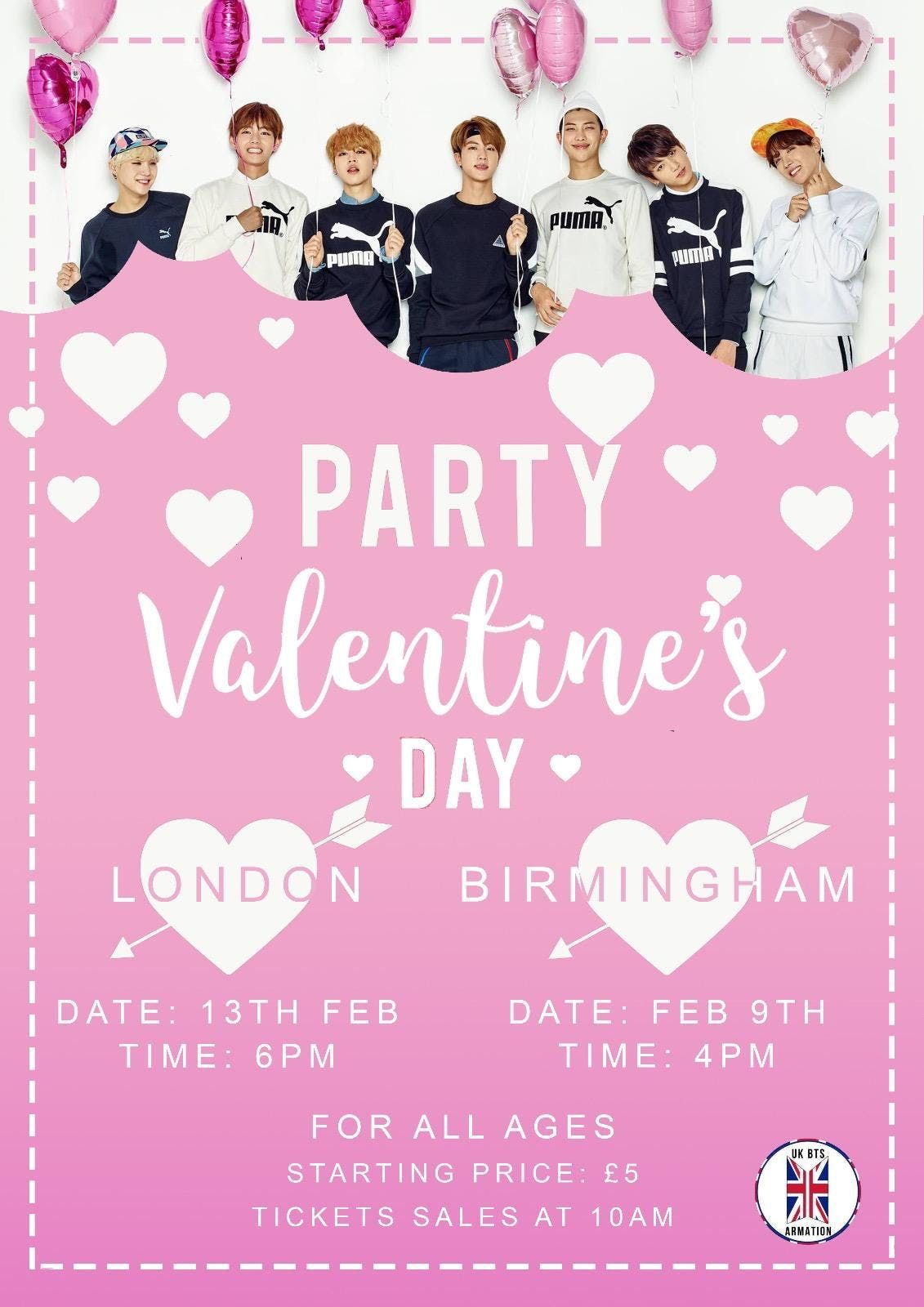 Available in Event Description, London, United Kingdom
UK BTS ARMY
Spread the word
ARMY Love is in the air for ARMY & BTS! 
BTS is all about loving ourselves and so we are hosting two valentine's dinner to celebrate ourselves and our love for BTS!  The two locations are London and Birmingham this time around. Please be sure to read the information carefully and do note both events are all ages, you can't put an age limit on celebrating love right? 
**Portions of the procceeds will support Children and the Arts an organization that reaches out to children in  communities and to children in hospices at various cities across the United Kingdom 'who are in danger of missing out on creative and cultural experiences'. As the event is a charity dinner there will be NO REFUNDS.** 
London 
Date: 13/2/19 
Location: Superstar BBQ -  Central Piazza St Giles, Saint Giles High Street, London WC2H 8AB 
Start time: 18:00 
Tentative Schedule:  
6:00 - 6:30PM Meet-up in the restaurant and be seated in our booked space, as well as receive the lovely treats we have prepared for you. The restaurant will not sit anyone down until the entire group arrives. 
6:30 - 8:15PM Order food and enjoy our meal. There is the option of Korean BBQ and traditional korean food. There are vegetarian and halaal options available. 
8:30 - 10:00PM KARAOKE TIME!!! 
Note: The cost of the ticket does not include the meal or karaoke, so please bring £20 or more with you as we share a lovely meal as ARMY and possible sing our hearts out after! Also, the theme colour of the night is purple, so pleaseshow of your best purple outfit! And the £5 goes directly to Children and the Arts charity!
Birmingham 
Date: 09/02/19 
Location: Miss Korea  - 155 Bromsgrove St, Birmingham B5 6AB
Start time: 16:00 
Tentative Schedule:  
16:00 - 16:30 Meet at the restaurant, get seated and receive special treats!
16:45 - 17: 30 Make Homemade Valentine's Cards
17:45 - 19:45 DINNER TIME! 
Note: The cost of the ticket includes a goody bag, a meal and two drink tickets. The meals are prepared for groups of four each, so you will have the opportunity to meet new ARMYs in the area as you share an amazing meal! The valentine cards created will go to a hospice care center for the elderly.