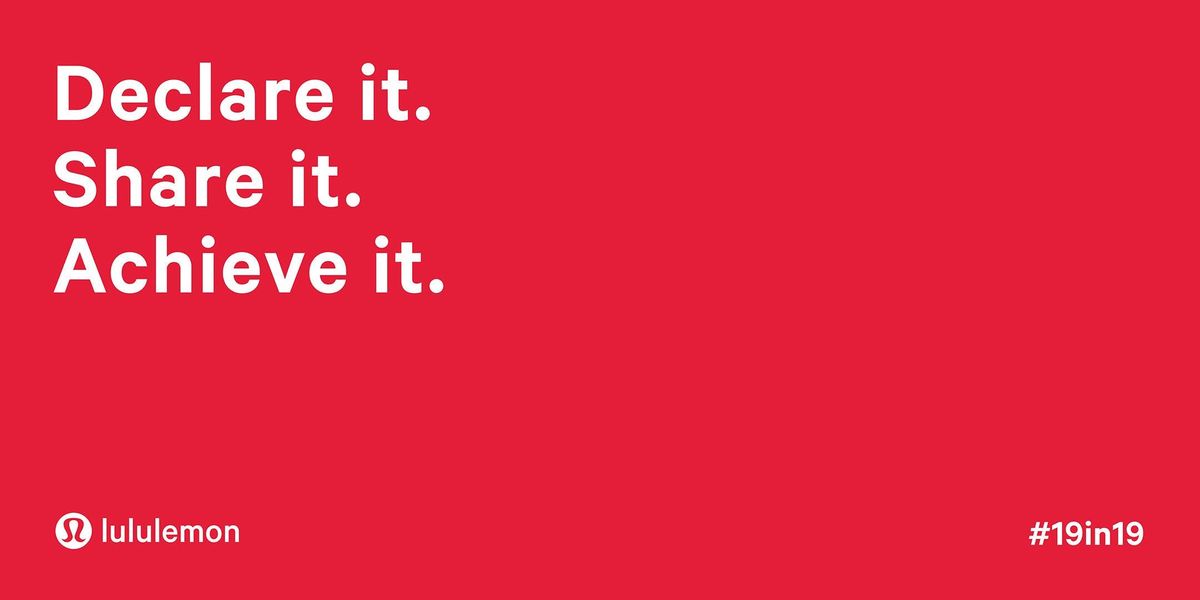 The Old Truman Brewery, 91 Brick Lane, London, United Kingdom
lululemon athletica London
Spread the word
19 in 19 is a simple way to set goals that inspire you, and fire you up all year long. So, what do you want in 2019? More specifically, what are 19 ways to make it your best year yet? Join lululemon Spitalfields for an immersive morning of sound baths and setting goals.
Part 1: Sound Bath with Sara AusterJoin Sara Auster for a deeply immersive experience of sound. A Sound Bath is a meditative event that supports states of deep relaxation, where stress release and healing can occur. A gentle yet powerful experience for the mind and body. Come lay down, relax, and bathe in the sounds of singing bowls and tuning forks. 
Part 2: Goal setting with Resident Charlie DarkBe in possibility. lululemon Resident, motivational speaker and Run Dem Crew founder Charlie Dark will lead a motivational talk and share top tips on setting goals - big or small! This session will leave you feeling inspired to create our very own 19 in 19. 
About SaraSara Auster is changing the way the world is engaging with sound and the act of listening.  As a sound therapist, meditation teacher, speaker, and artist, she has been a driving force in bringing sound baths to contemporary culture.  Sara navigates the space between science and art as she intertwines the benefits of sound with a musician's gift for creating moments of transcendence.  Through carefully crafted live experiences and recordings, she allows sound to be used as a tool to access meditative states, support self-inquiry, cultivate deep relaxation, and inspire meaningful connection and change.