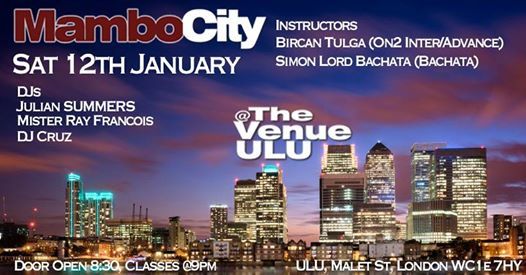 Student Central, Malet Street, WC1E 7HY London, United Kingdom, London, United Kingdom
Mambo City
Spread the word
The Venue:ULU
Malet Street
London
WC1E 7HY
Our Fab Team of Guest Teachers, our Dream team DJ's, Shows our Mambo City Team will be waiting to Welcome you all on Sat 12th January 2019 and to party hard with your HELP.......
Famous for our Friday & Saturday parties 5Star London Salsa Congress, Dance Holidays and more.
Mambo City Soon to be approaching our 20th year we continue to Bring you awesome parties!!
❤️?❤️?❤️?❤️?❤️?❤️?❤️?❤️?❤️
Everyone always Welcome..The more the merrier!!
❤️?❤️?❤️?❤️?❤️?❤️?❤️?❤️?❤️
*****5 Star Rating......(It's Going to be an awesome night..)*****
Salsa Room:
✅✅Guest Teachers: Bircan Tulga-Teaching "On2" for Int/Adv dancers @9pm
plus Mambo City Team Teaching Beginners & Improvers Salsa On1..
Saturday 12th January 2018
Mambo City @ULU
Dress Code:!!?? Smart Salsa Style
❤️?❤️?❤️?❤️?❤️?❤️?❤️?❤️?❤️
Kizomba/Bachata Sensual Room:
Bachata Class @9pm
✅✅Guest Teacher: Simon Lord Bachata Teaching Bachata for Imp/Int Dancers
✅✅
[email protected]
Anna Villa & John Adenitire
Bachata/Kizomba DJ's...
Kizomba City/Bachata City
Dream Team: Mister Francois & DJ Cruz playing More awesome music all night long!!
???????????????
Salsa DJ's....
Mambo City's Dream Team, DJ Julian Summers & DJ Cruz playing More awesome music all night long!!
???????????????
Reminder No Entry after Midnight so come Early & Stay till later.....
???????????????
Entrance: £12/10Members/£8 NUS
Bar @ Uni Prices.......Please support.. Lots of Love....
Coat Rails for All your Coats
Leave your valuables at home and Come prepared to Dance....
Car Parking off street..Please read the posted signs on the road B4 parking to ensure you get it right and avoid a parking find....The council has small squared paving on the pavement indicating where to park as well and sign post notices..so to avoid a Ticket Please Read carefully....DO NOT PARK ON THE LARGE PAVING SLABS..YOU WILL GET A TICKET EVERYONE...
Park on nearby streets too and walk to ULU
Thank You
Membership to Mambo City is a one off payment of £8 please ask at the door if interested.. we do need to see your membership cards on every visit, no card no discount...
Celebrating a Hen, Stag or Birthday...you name it...come and party with us.....E-mail
salsa | mambocity ! co ! uk
to get a discount for bringing a group...
Dates for 2019
Sat 12th Jan 2019
More to follow