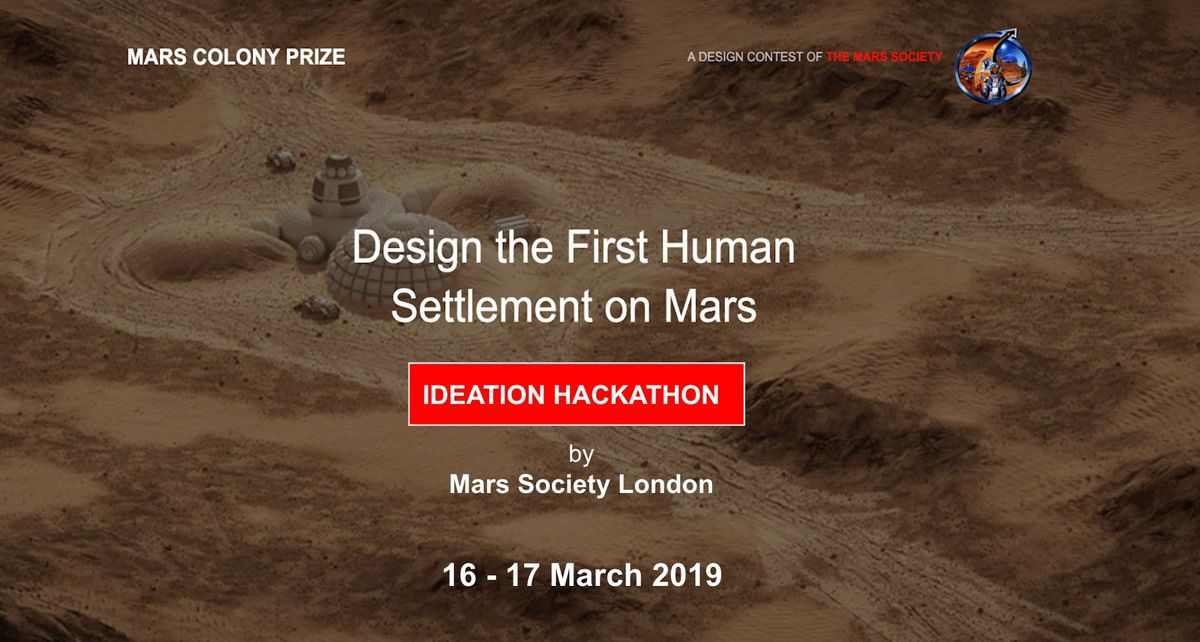 The British Interplanetary Society, 27-29 South Lambeth Road, London, United Kingdom
Eventbrite
Spread the word
The Mars Habitat Design Hackathon at the British Interplanetary Society
Mars Society London (MSL) is creating a unique 2-day hackathon at the historic and important venue that is the British Interplanetary Society to encourage and help people put together Mars habitat designs that can be submitted in the Mars Colony Contest. This hackathon will focus on the design of habitats suitable for Mars and we will provide various kinds of expert support to help teams develop their ideas and designs faster.
The Mars Colony Contest
The International Mars Society is holding a contest for the best plan for a Mars colony of 1000 people. There will be a prize of $10,000 for first place, $5,000 for second and $2,500 for third. In addition, the best 20 papers will be published in a book "Mars Colonies: Plans for Settling the Red Planet."
---NOTE: Participation in this event does not immediately qualify you for any of the above prizes. You have to put together a written proposal and send it to the International Mars Society as part of the contest to be considered. The goal of the hackathon is to support you, through mentors and speakers and having a collaborative environment and venue to work on this, in putting together a design, and the beginnings of a proposal, that you can then submit for the contest if you choose to.
---
This event will be a unique opportunity to learn about Mars from industry experts and to work in teams with people bringing a combination of skills towards the goal of designing the first human settlement on Mars. 
You will have the chance to:
Hear talks from experts in the fields
Form a well-balanced team
Get feedback on your proposal at the end
Expand your network in the Space Sector
By the end of the hackathon, you will have a Mars colony/habitat design that you can then write up into a solid proposal and send to our international branch as part of the Contest.
NOTE: Participation in the Contest is NOT dependent on participation in the Hackathon. Anyone can submit their paper whenever and however they want (alone or in a team) but this hackathon can help you put an idea together with a group of other Mars and space enthusiasts!
JOIN US IN SHAPING THE FUTURE OF HUMANITY!
Anyone from any country can participate in the contest!
Submissions are 20-page papers, describing all aspects of a self-supporting Mars colony, with the scoring being distributed in the following categories:
Technical Design: (40%) What systems will be used? How will they work?Economic: (30%) How can the colony be made economically successful?Social/Cultural: (10%) What should Martian society be like? What kinds of schools, arts, sports, and other activities, should there be? How, given a fresh start, can life on Mars be made better than life on Earth?Political/Organisational: (10%) How should the colony govern itself?Aesthetic: (10%) How can the colony be made beautiful?
Full Details about the contest here: 
http://marscolony.marssociety.org/ or
https://www.marssocietylondon.com/marscolonyprize/ 
/>
NOTE: Participating in this hackathon does not qualify you for being considered in the habitat design contest of the international Mars Society. You will need to additionally write up and submit the designs generated during this hackathon.