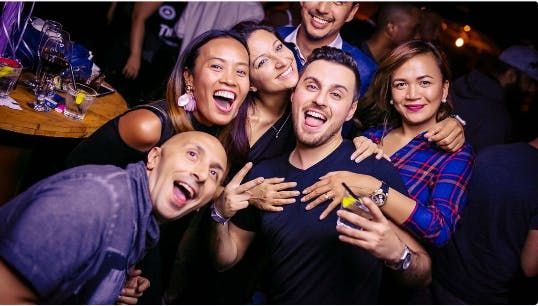 Mahiki Kensington, 2A Kensington High Street, London, United Kingdom
The Expats Club
Spread the word
Please join us on Saturday, 12th January from 6.30 pm onwards at the exclusive Mahiki Kensington Bar, where you can meet other singles between the ages of 21-55 where you can interact with these like minded people of your age group, relax and maybe exchange a few numbers.
A decade after Prince Harry and an army of well-heeled A-listers made the Polynesian themed nightclub Mahiki Mayfair the place to be seen, we welcome the newly opened Mahiki Kensington. Like it's predecessor, Mahiki Kensington adheres to its infamous party spirit, with it's 'Aloha Collective' playlist compiled by some of the biggest names in the music industry – a combination of guilty pleasures from the past and more current music. Shortly after the last chopstick is laid to rest tables and chairs are pushed aside to turn the venue into an all dancing nightclub that continues unto the wee hours.
Please come early so that you can be introduced to some of the other attendees. Additionally, we will also invite members of some of our other quality meetup groups in the city and so you will meet a lot of new people. We have many 18 meetup and facebook groups in London with a combined membership of over 110,000 in London!
As usual:
- We have our area reserved under HIMANI/Meetup. Please ask the bar staff for Himani and they will help you find us.
- HIMANI is hosting the evening. Himani will also be there for a bit at the start of the evening. We start early and HIMANI will be at the venue from 6.30 pm. She will welcome you warmly at the venue and will also help with introductions.
- Event Cost (Tickets)
Early Bird tickets are for £5 eachRegular 50 tickets for £10 eachCash at the door to Himani - £15 each
- All attendees get a free welcome drink so long as they last.
- Dress code - Smart casual/Leather shoes/Heels/No sports wear/Please make a little bit of effort. Dress up please as the dress code is rather strict here.
-Please note that we have our private area will have soft music early on. The overall venue gets very busy later in the evening and there is a DJ and dancing. Himani will host till 930 but you are very welcome to stay in the bar till 3am!.
- Identity cards - Please do not forget to carry some identity proof like a UK/EU driving license or foreign passport. This is very important if you come after 8pm.
- Guests are very welcome. Please sign them up as your pluses.
- Please be aware that over 85% of members attend for the first time and over 95% of members attend alone. There are no strangers, only friends you have not met before.
-----------------------------------------------
Please be aware that everyone attends these events to meet other members and so there is no reason to be shy or bashful. Also be aware that most people come alone. Himani is there to look after you and make you comfortable. Please come early!
--------------------
This meetup is organised with
www.connectwithlocals.com
. Please watch the video below to see why you should attend our meetups.
http://bit.ly/whyattendoursocials