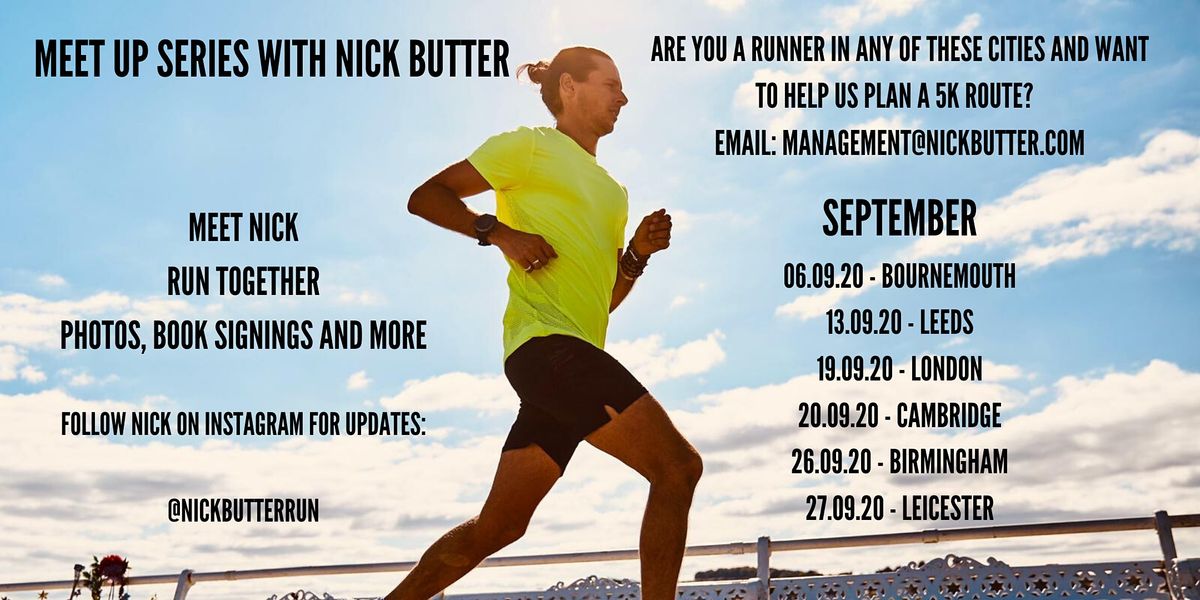 Hyde Park (Address TBC), Hyde Park, London, United Kingdom
Eventbrite
Spread the word
MEET UP SERIES WITH NICK BUTTER. Join Nick, hear stories, see photos and run a 5K loop in cities across the UK together. Get involved!
About this Event
Are you a runner in London and want to help us plan a 5K loop in your hometown? Email Yas at managment | nickbutter ! com! Free tickets available for voluntary reps - please contact before registering to receive a code.
Our partners: TREES NOT TEES!
For all those who register for paid tickets, our friends at Trees Not Tees will provide the following:

● Planting a tree for each participant who registers, on land managed by The Global Future Forest

Company. This tree will be maintained for at least 10 years.

● Sending details of the tree (picture, species, unique geo-location) to the

participants once planted.
Check them out at www.treesnottees.com!
Come and do some good whilst being a part of Nick's Meet Up Series, read below for more about the runs...
What will we be doing at the meet up?
The plan is to meet at an accessible place for all to come together, Nick will introduce himself and there will be an open conversation about his latest expedition 'Running the World 196'. Being the first person to run a marathon in every country in the world has inspired Nick to share his story with you all and what better way than to be up close and personal and do the exact thing you love together...RUNNING.
Meet up series goody bags will be handed to all who have registered on arrival including new merch, running fuel and more!
After the talk/Q+A there will be a run, which will be approximately an hour around a 5K loop. All levels welcome, Nick will be chatting to you throughout the run!
What happens after the run?
Nick would love to have photos with the group and individuals, there will also be an opportunity to buy Nick's new book and have it signed - Running The World: My World-Record Breaking Adventure to Run a Marathon in Every Country on Earth (available for pre-order on Amazon now!).
All tickets: £25
Children Under 12: Free (Please ensure they are registered with a ticket still)
Voluntary Reps: Free (Must have contacted management | nickbutter ! com to receive code)
Please ensure you REGISTER and get your ticket - Invite and share with your friends, families and work colleagues!
Want to know more about Nick? Check out his website: www.nickbutter.com
For any enquiries please contact: management | nickbutter ! com
Keynote Speaking
Nick's passion for running is clear, but his meaningful topics are the basis of some truly inspirational messages too. He covers areas such as understanding potential; embracing failure; perseverance and determination, and how to value the time we have on our planet. His personal stories bring these issues to life with enthusiasm and character. Nick may be a runner first and foremost, but his messages reach further. He's not on a crusade to get everyone into lycra, but simply to spread the message that everyone, regardless of age, background, and commitments can excel at anything they put their minds to.
Find out more: https://www.nickbutter.com/keynote-speaking
Join us on Nick's Theatre Tour
A chance to listen to stories from the man who's run a marathon in every country on the planet. From spine tingling highs, to horrendous lows - this outrageously evocative journey is one of adventure, challenge and solo endurance. Muggings, erupting volcanos, extreme weather, war zones, juggling passports and the hugely physical, logistical and mentally relentless nature of this expedition makes for some jaw dropping anecdotes; the sheer scale and diversity of the planet really shines through. Accompanied with stunning photography and video footage, Nick's tour is not to be missed. This remarkable journey took Nick 674 days running 3 marathons, in 3 new countries a week, every week, for 96 weeks. Join Nick in a venue near you as he attempts to whittle 2 years of running, flying and dodging danger down to just one talk. An epic tale of human endeavour and a lot of sweaty pants.
Find out more: https://www.nickbutter.com/theatre-tour
UK Schools Tour
Nick is aiming to reach 50,000 school children throughout his UK Schools Tour!
Find out more: https://www.nickbutter.com/schools-tour-now-on
/>
iCause.com promotes public events for free and helps event organizers connect with nonprofits to attract more participants like you.
Additionally, the iCause Global Foundation enables good people to fund great causes around the world. Together, our impacts are limitless!