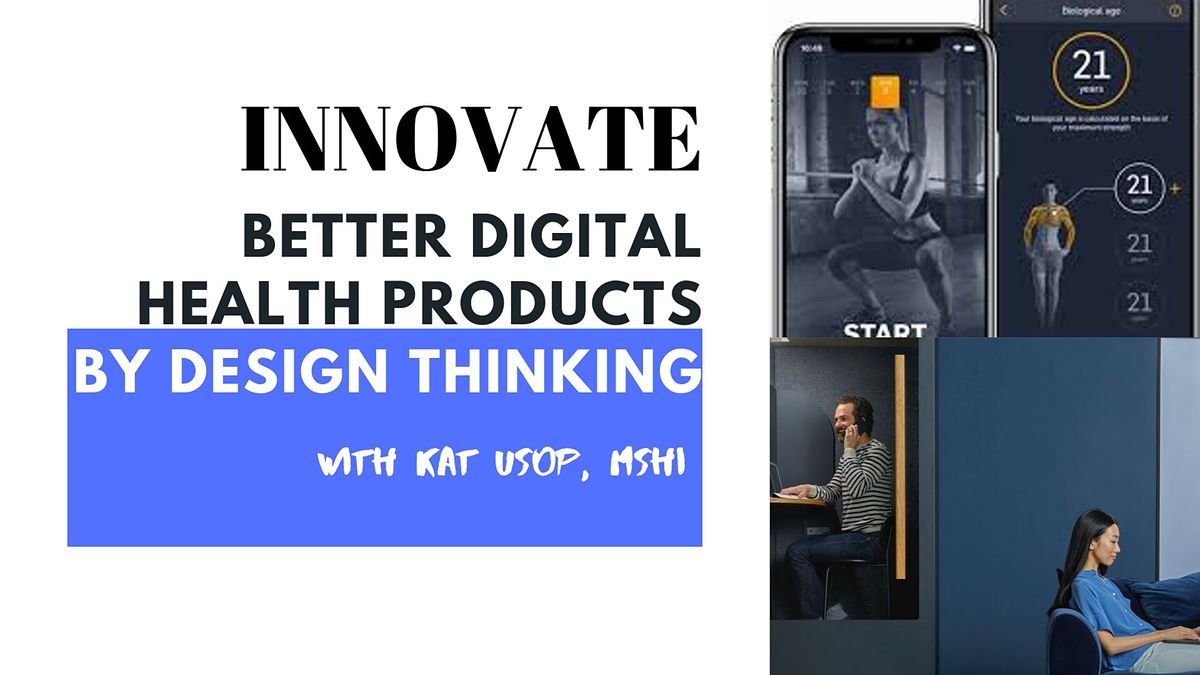 London, United Kingdom
Eventbrite
Spread the word
In the world of mhealth design, usability is king.
About this Event
Keys features:
✅ 2 hours of instructor-led training (Online Mindshop using Zoom platform)
✅ Certificate of Completion – powered by The Mindshop School
✅ Hands-out materials and unlimited access to the recorded session
What is this MINDSHOP™ about?
In the world of #mhealth design, usability is king. Softwares, valuated for millions of dollars, are abandoned due to its lack of appreciation of the power of usable design principles.
This course emphasizes the importance of mobile user experience in designing effective healthcare e-solutions: how different populations of healthcare consumers select and utilize mobile apps in their daily lives, why they sustain or abandon use, and the health benefits and predictive outcomes that are caused by this usage.
Module 1: Gathering Insights from providers and patients' point of view
Understand design thinking framework through case studies in healthcareIdentifying users pain points (patients and providers)Learn how to gather data and contextualize them into a meaningful architectureModule 2: Ideation in the healthcare sphereReframing and Ideation - Go wide and wild problem-solving techniqueKnow how to foresee the needs based on user personas
Module 3: Implementation and limitations
Prototyping and testing - fail fast, keep moving techniqueKnow how to stitch the design to the insights gatheredLearn how to iterate swiftlyLearn how to manage frustration when failing fast processOpen-Discussion: Your current role and how designing a mobile health app can benefit you
Who needs to attend?
Entrepreneurs at early-stage of their startup (preferably mhealth)Managers who are committed to solving healthcare problems creativelyUser Interface designers who wish to expand their towards UX design in health
FAQs
Limited slots! We like quality discussionsThis is Online! From the comfort of your home, office, laptop, mobile.Anchor timezone is New York Time (we will send you a message with zoom meeting – Eventbrite calendar has a glitch)Ticket Non-Refundable: my proprietary work, in the form of audiovisual recording and lecture notes, will be shared with you exclusively.I send the zoom URL and instructions 1-day prior to class to make sure the ticketing is officially closed.Read my recent #mhealth publication:
https://ieeexplore.ieee.org/document/8402421/
/>

Why Me?




I help ambitious careerists and entrepreneurs in building their arsenal towards creative problem solving, authentic product design and development. My masterclasses are highly interactive and personalized. I look forward to having you onboard!




Industrial Experience:


2019 recipient of MU School of Medicine's Lindberg Award for Health IT InnovationCurrent R&D Lab Manager at Duke University – Biomedical Engineering Dept.Former Adjunct University Lecturer at ENSET Biomedical Engineering School at the age of 23."How to Gamify a Virtual Surgical Workspace" Talk at (VRVoice2018) Harvard Medical SchoolCo-Founder of TechVerse Coworking Space & Incubator, Rabat City, Morocco – the first tech-oriented coworking space in the kingdom. est. 2016HIT | Design Thinking Consultant at Medverselab est. 2016Chief Software Architect of Sutures App – Gamified Gastro-intestinal e-Surgery Simulator (Check it out! ) est. 2016Chief Design Thinker / Information Architect at Sinclair School of Nursing – HEAR App est. 2017Research Fellow at the University of Missouri's Center for Biomedical Informatics - focus on Mobile Based & Gamified Precision Medicine est. 2018Design Thinker (mHealth) for Precision Medicine

Academic Background:

Peer Reviewer at IEEE Journal of Biomedical & Health Informatics (JBHI)Peer Reviewer at Journal for Medical Internet Research (JMIR)Public Speaker: USA, Hong Kong, Malaysia, Morocco, Philippines (+30 talks)Author of "Gamified Psychosphere" - available on Google books/amazon kindle @ 2019Holder of Engineering Diploma in Manufacturing Engineering and Management with Specialization in Biomedical EngineeringAdvanced Degree (MS) in Health Informatics – Precision Medicine

#KeepHustling!

Linkedin: https://www.linkedin.com/in/katanai/

Website:> katusop.com

Twitter: @itskatusop
iCause.com promotes public events for free and helps event organizers connect with nonprofits to attract more participants like you.
Additionally, the iCause Global Foundation enables good people to fund great causes around the world. Together, our impacts are limitless!