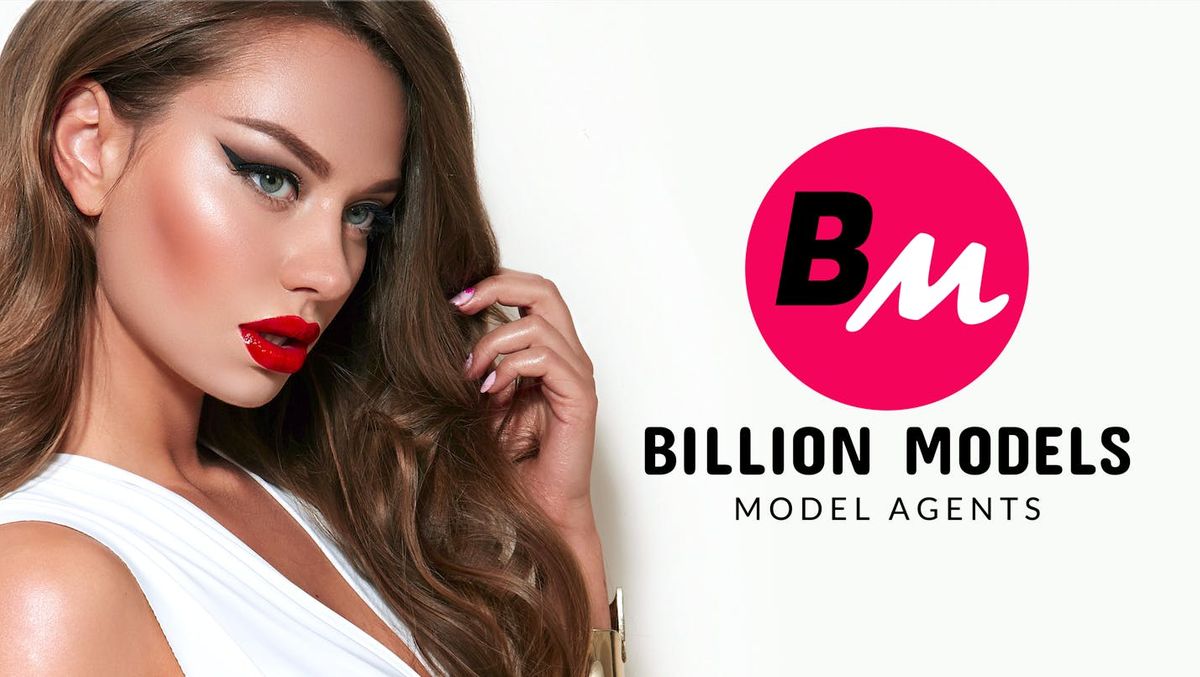 Billion Model Agents, 469 Bethnal Green Road, London, United Kingdom
Eventbrite
Spread the word
You are invited to attend a model photo shoot in London by Billion Model Agents.
Every booking comes with two FREE professional photos provided on the day of your shoot. This offer is for a limited time only so book your space today to avoid disappointment.  
SERVICES
*MODEL PHOTO SHOOT DAY
*MODEL SPECIAL EFFECTS SHOOT
*MODEL TEEN PHOTO SHOOT
*MODEL CHILD PHOTO SHOOT
*GROUP PHOTO SHOOT 
*PHOTO SHOOT GIFT VOUCHER  
BOOKING DESCRIPTIONIndulge in a deluxe model experience day at our London studio. Upon arrival for your shoot, you'll meet with or studio team of hairstylists and makeup artists for a beauty consultation to decide on the look you want to go for; then you'll have your hair and makeup done professionally (what a treat!). Next you'll have a photoshoot with their experienced photographer and up to four of your own outfit changes. Refreshments will be provided for you and any spectators you bring.
This Package can be purchased in multiples so bring a friend relative or loved one along.
SERVICES OFFEREDRefreshmentsA selection of light refreshments are available upon arrival. Whilst sitting in our comfy waiting area, look through our magazines and portfolios for ideas on hair styling and makeup application.ConsultationOur makeup artist will establish the type of look you wish to achieve, and your preferred colour options, alongside advice on which colours and styles are best suited to your skin tone and face shape.Make OverUsing quality professional makeup from brands such as MAC, our makeup artists will apply your makeup and work with you to create your new look.Hair StylingTo compliment your look further, your hairstylist will style your hair. Just sit back and let the professionals do the work!Personalised Photo SessionHere comes the fun part! You'll meet your personal photographer on set, who will help you create stunning images, captured for life. We suggest that you bring along some of your favourite items of clothing, accessories and jewellery to truly personalize your portraits. Expect around 3 outfit changes- and don't forget your shoes!Private ViewingYou will be invited to view your photoshoot in a private viewing room where your pictures will be available for purchase if you wish, although you are under no obligation to do so. Whether it's a small print or a cd that you're after, we have packages to suit all pockets!
HAIR-STYLING SERVICE
Put yourself in the hands of one of our Hair stylists and get ready to look great for that special event or seasonal party.  Whether it's a fresh look you seek or you like some well deserved pampering then you need not look any further.
MAKE-UP SERVICE
We have an excellent team of Makeup artists available that can create the desired look for that special occasion.  Whether its a wedding you want to attend, a job interview or a party you are sure to benefit from our makeup services.
FALSE EYE LASHES
Book yourself in for some false eye lashes, these  can be used on both curly and straight lashes and they can be mixed with textures and thikness for beautiful natural look or jazzed up for the ultimate bright-eyed look!With over 25 years experience in the industry working with beautiful models, celebrities and many happy customers – we are sure you will enjoy our premium
t service also available if you are looking for a present that is something a little bit different to give to your special someone.
All Vouchers are offered with a 40% discount applied and valid for 12 months from the date of purchase.
All bookings come with two FREE professional images included with the option to select more images if required.
After your purchase, our team will send the voucher by email. You will be required to bring your voucher to our studio when attending your model photo shoot.  
TERMS & CONDITIONS  
Bookings
All bookings are based on booking type and will start from £40. This is to ensure that you and your guests attend and includes two FREE photos in our special booking promotion.
Appointments, Cancellation and Rescheduling
In accordance with the Distance Selling Act bookings can be cancelled providing you contact us within 7 days of making your booking and that the booked date is not more than 7 days ahead of the date of cancellation.
Under 18's need to be accompanied by a parent or legal guardian for the duration of the session. Clients are expected to turn up 15 minutes prior to their booking appointment. All appointments are subject to availability.
Your booking voucher is non refundable if you or any participants do not complete the entire session as booked, which may include consultation, makeup, hairstyling, photography and viewing session. Clients who turn up 15 minutes after their appointment time may have to be rescheduled and booking voucher forfeited.
Appointments can be rescheduled only 7 days prior to appointment otherwise your booking voucher may be forfeited.
Third Party Bookings
Our photography studio will not take any responsibility for any contractual agreements between a client and their supplier i.e. studio hire, model portfolio and events.
Any queries regarding such bookings need to be directed to the third party concerned.
Please note that we are not a recruitment/employment agency
Supply of Goods
All selected images that are fully paid can be taken away by clients on CD on the day of your shoot. Please allow upto 4-6 weeks for canvases or prints orders. Because of the customized nature of our photographic products (prints and canvases) after the order has been placed, it cannot be cancelled.
Orders, Cancellation and Refunds 
It is the client's responsibility to ensure they read the terms and conditions stated on the order form and are happy with the images they select on the day during the viewing session.  Please note there is no obligation to purchase any images.
Once the photographic products have been checked, collected and signed for at our studio, no returns will be accepted nor will any refunds be processed.
In relation to faulty products and delivery of photographic products by post, any issues with photographic products, should be sent to us in writing within 14 days of receipt of the products, along with the faulty photographic products. Our studio will rectify the problem and endeavor to supply the photographic product to the client as soon as possible. After the 14 day period no returns on photographic products will be accepted.
For copyright purposes no personal photography is allowed at the studio, use of digital camera, camera phones, video recorders or any photographic capture devices is strictly prohibited.
Our studio has the right to amend, vary or cancel these terms and condition at any time. The terms and conditions gives details of our service. If you have any queries or need clarification, please contact us and a member of staff will be happy to help you.