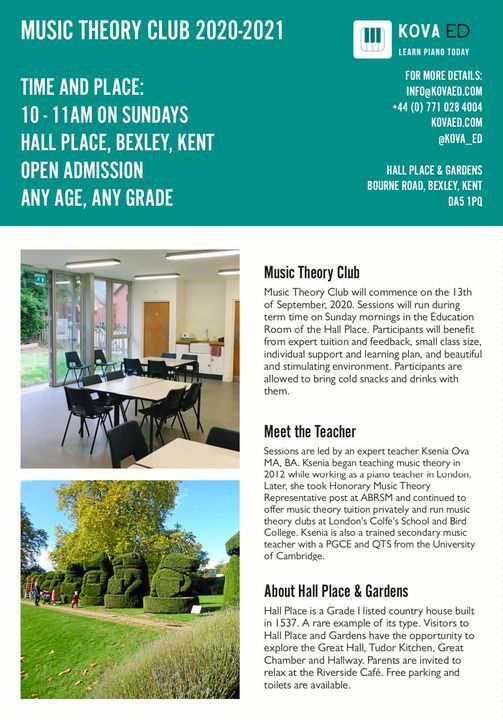 Hall Place, Bourne Road, London, United Kingdom
Ksenia Ova - Pianist and Educator
Spread the word
*THE EVENT HAS BEEN POSTPONED UNTIL FURTHER NOTICE*
Whether you are an absolute beginner or preparing towards your ABRSM Music Theory exam - we are here to help! Please, don't forget to bring your books, pencils and erasers.
​Our Music Theory Club runs on a termly basis every Sunday 10:00-11:00 am in the Education Room of Hall Place & Gardens in Bexley, Kent. The dates for the Autumn Term 2020 are as follows:
​
13th of September
20th of September
27th of September
4th of October (in the Parlour of Hall Place)
11th of October
18th of October
25th of October
The class sizes are kept small; the spaces are limited to 12 people per session. Participants will benefit from expert tuition and feedback, individual support and learning plan, beautiful and stimulating environment.
Participants are allowed to bring cold snacks and drinks with them.
____________________________________________________________
2020-2021 Tuition Fees:
​
£105 for Autumn Term 2020 (i.e. £15 per session)
We offer 25% discount for +1 family member and 50% for +2 and more family member​s
We also offer one-off sessions, with a surcharge of 30% on the above fee​
For more information -
https://www.kovaed.com/music-theory-club.html
#/
Please, direct any questions to
ksenia | kovaed ! com
iCause.com promotes public events for free and helps event organizers connect with nonprofits to attract more participants like you.
Additionally, the iCause Global Foundation enables good people to fund great causes around the world. Together, our impacts are limitless!