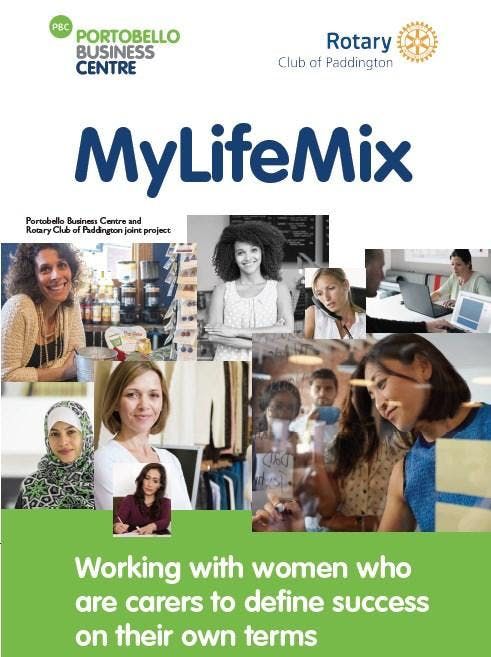 Portobello Business Centre - Office 13, Canalside House , London, United Kingdom
Portobello Business Centre
Spread the word
If you are a woman who wants to take a step forward and get paid for what you always wanted to do, we can help you to fulfil your dream.
Paddington Rotary in partnership with the Award Winning Portobello Business Centre and the business advisor Elsa Caleb bring you a programme that will take you from having the seed of a business idea through to the germination and growth process to getting your business off the ground and up and running.
This flexible and comprehensive course, specifically designed for women, runs one-day-a-week (Tuesdays) over a 9-week period.  There is no session in half term week, 27th – 31st May 2019.
Starting and running a business takes having an idea, motivation, time, energy and skill. This is an opportunity to explore what's involved and see for yourself just how easy it might be to set up and run your own business.  You could be up and running in just 9 weeks.
If you have a business idea, a hobby you'd like to make money from, or are simply wondering if you've got what it takes, then this course is for you. It will answer your questions, help you risk assess your ideas and support you in exploring how being self-employed might work for you. In the company of like-minded women you will learn a great deal, have a lot of fun and cover topics that include:
Programme:
Week 1 – The Basics for Starting Your Business
30th April 2019
Elsa Caleb
Personal journal
Reflect on the reasons for starting a business
Identify the advantages and commitments of running a business
Identify personal development needs (SWOT analysis)
Review skills
Understand how to develop a business idea
Review products and services
Business values and what that means
Feedback form  
Week 2 – The Business Plan
7th May 2019
Elsa Caleb & Maria Stammers
Writing an Effective Business Plan
Choosing the correct legal status for your business:
Sole Trader
Partnership
Limited Partnership
Limited Company by Shares & Limited by Guarantee
Community Interest Company
Social Enterprise
MyLifeMix Business Wheel
Vision and Mission Statements
Feedback form    
Week 3
14th May 2019
Elsa Caleb & Nina Risoli – The Market & Market Research
What is Market Research?
Understanding the market for your business
How to develop business contacts
How to build relationships with your customers
How do present your business?
How do you promote your business?
How do you manage your time?
Feedback form  
Week 4 – Legal Responsibilities
21st May 2019
Elsa Caleb & HMRC
Personal Survival Budget
Understanding income and expenditure
Setting Sales Targets
Completing a Sales Forecast
Competing a Cash-flow Forecast
Understanding profit and loss
Feedback form  
TUESDAY 28TH MAY HALF TERM HOLIDAYS    
Week 5 – Understanding Finance & HMRC
4th June 2019
Elsa Caleb & Sajid Syed
When do I have to register with HMRC?
How much will my National Insurance Contributions be and how will they be paid?
When and how do I pay my taxes?
What counts as a business expenses?
Can you explain how using things like my car for both work and personal uses works?
How much does it cost to have an accountant do my tax return for me?
Is there software you provide for your customers to enable them to keep records that make self-assessment easy?
Feedback form  
Week 6 - Marketing & Branding
11th June 2019
Elsa Caleb & Carol Pyke
Personal branding
Story board
Values
Introduction to Marketing
The importance of Marketing
Feedback form  
Week 7 – Understanding the Benefits of Social Media and a Website
18th June 2019
Elsa Caleb & Theo Ruby
Website:
What is a domain / hosting / website builder and what's the difference.
How to get started with wordpress.com
Picking a theme
Setting up pages
Building a menu structure
How to create a form to collect leads
Adding Social Integration
Very Basic Search Engine Optimisation
Testing
Next Steps
Social Media:
What does social media offer your business
What channels are right for you?
Setting up accounts
Keeping a consistent tone and branding for your business
Social media post structure – Statement #tag CTA image
How to react to negative comments
Scheduling and time saving tips
Engagement
Feedback Form  
Week 8 - Presentations
25th June 2019
Presentation
What's next  
Venue: Portobello Business Centre, Canalside House, 383 Ladbroke Grove, London, W10 5AA  
Booking Fees: This course is provided without charge for Women who have NOT started a business yet nor registered as self-employed yet. It is predominately funded by Rotary International. An £80 refundable deposit secures your place on the course. Refunds will be made only after attendance and completion of the whole course (only 2 absences will be allowed) along with completed paperwork, business plan and/or a statement of circumstance.
Comments from past participants;
"The course layout was amazing I've learnt many things about my business and how to present myself."- SS
 "I now feel I am a much more confident woman and signing up the "My life Mix" programme has been one of the best decisions I have made."- IL
"I came for a course to help me start my business, the course delivered much more than expected.  Doing the weekly homework and implementing the advice literally made me ready to start.  From Business Jungle I feel now in a peaceful and clear meadow." -  Karine Perret-Kermous
"Absolutely brilliant course in every way, I looked forward to coming to the course every week and I have learnt so much this has been a life changing experience for me. Thank you so much I feel confident to move on with my Business Plan after so many years." - SG
"I really enjoyed the course. The trainer created a safe and comfortable atmosphere, an environment for learning. I enjoyed the content of the course, the practical activities, writing my learning journal." - CQ