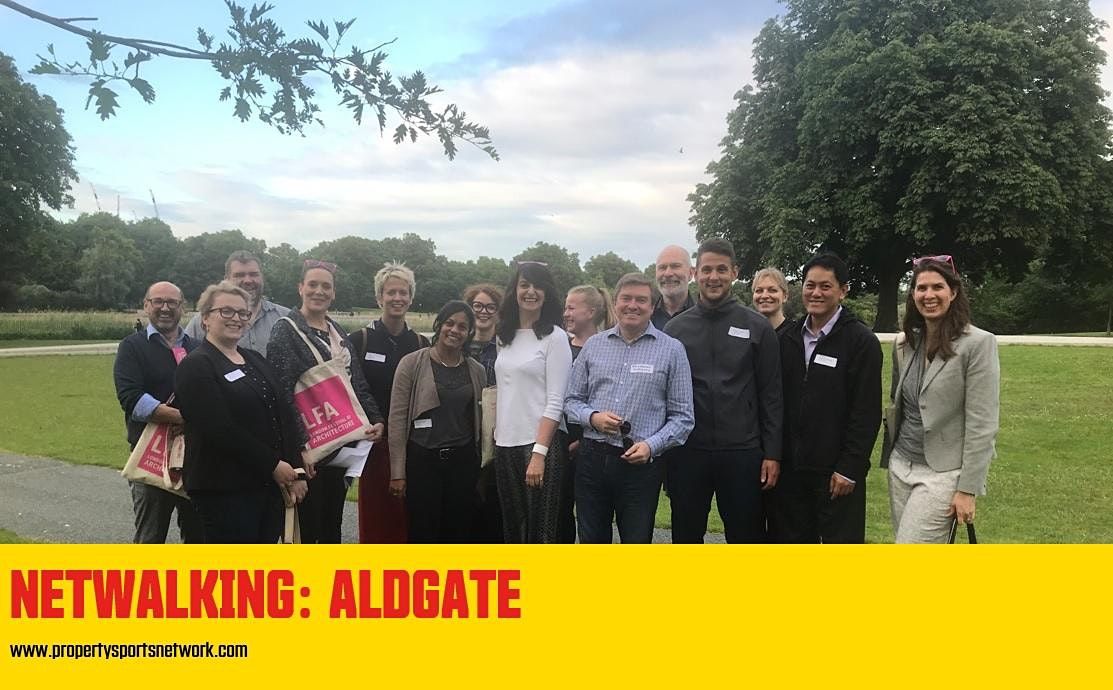 Reception, Aldgate Tower, 2 Leman Street,, London, United Kingdom
Eventbrite
Spread the word
'Walking is the closest thing we have to a wonder drug.' 
Dr.Thomas Frieden, former director of the Centers for Disease Control and Prevention.
Walking opens the free flow of ideas and is a simple and robust solution to the goals of increasing creativity, increasing physical activity and also now increasing your business network via Netwalking.
According to studies, just one 10-minute walk a week can help you reduce your chances of early death as well as maintain or lose weight. Yet Public Health England has found that four in ten middle-aged adults are failing to manage even one brisk 10-minute walk a month, increasing their risk of developing potentially fatal illnesses.
There is also substantial data showing that walkers have lower rates of depression. Studies show it can helps reduce anxiety, depression and a negative mood. It can also boost self-esteem and reduce symptoms of social withdrawal.
Walking also helps you clear your head and helps you think creatively. Research published in the Journal of Experimental Psychology demonstrates that walking boosts creative ideation in real time and shortly after. Four experiments compared people trying to think of new ideas while they were walking or sitting. Researchers found participants did better while walking, particularly while walking outdoors.
Walking is free to do and easy to fit into your daily routine. You don't have to engage in lots of preparation; stretching, warm-up, warm-down. All you need to start walking is a comfortable pair of shoes…and a few new contacts to do it with. So sign up today to a location near you.
Don't believe us? Here's some further reading on the topic:
The guardian: 'It's a superpower': how walking makes us healthier, happier and brainier 
The Telegraph: Walking even once a week reduces chance of early death, study finds 
Give your ideas some legs: The positive effect of walking on creative thinking.
'Exercise for Mental Health'. US National Library of Medicine National Institutes of Health Exercise for Mental Health
Event Infotmation 
Networking:
Growing your network is fundamental to our events and this will take place before and during the walk.
Attendance:
This event is open to professionals working in the property and construction sector. Please share with Colleagues, Clients and Contacts who may enjoy the event.
When:
Netwalks are held on the last Friday of the month at 12:30. Information and sign up for Jan 31st, Feb 28th, March 28th is included below.
Timings:
12:30 – Arrive at Host venue to register and mingle. See locations around London below
12:45 – Netwalk Departs.
13:30 – Netwalk return to start (approx. 45 min walk at an easy conversational pace)
Format:
Netwalking is all about getting outside, having a strole and meeting new people. It's that simple.
As part of the Netwalking events we are encouraging you to explore your neighbourhood. Hosts and starting points will change during the year.
MEETING POINT AND HOST.
Aldgate: Meet at reception, Aldgate Tower, 2 Leman St, Whitechapel, London E1 8FA. Host Andrew Link of FTSQUARED.
FREQUENTLY ASKED QUESTIONS
Can I come on my own?
Sure, lots of people come to their first Property Sports Network events on their own. It's a great place to meet new business contacts from different circles to your own.
What will I need?
Wear comfortable shoes check the weather before departing the office, and bring plenty of business cards.
Is there food provided?
No. You'll have to grab a bite before or after your walk.
My neighbourhood is not shown can I come along to any?
We will be phasing the introduction of several more locations across London. Please come along to any if your location is not shown however watch this space for closer locations in the coming months?
Can I host a Netwalk?
Yes. Email us your location and we will try to schedule you as a host of an upcoming Netwalk.
Property Sports Network Building fitness, wellbeing and your network.
How to keep in touch:
Twitter: Follow us here.
Linkedin: Follow us here.
Instagram: Follow us here.
Facebook: Follow us here.
Strava: Follow us here.
Or sign up to our mailing list to recieve early notification and discounts: Here.
THANKS TO OUR GOLD PARTNER
LONDON BUILDING CONTROL
London Building Control Ltd, is a Corporate Approved Inspector and was incorporated as a company in 2006 to focus on building work in London.
Since we began the company has grown considerably and now operates across the UK from the south coast to the north of England, with offices in London, Manchester, Welwyn Garden City, Chichester and Exeter. We are here to meet the specific needs of our clients for both commercial and residential sectors.  Read more at 
www.londonbuildingcontrol.co.uk
iCause.com promotes public events for free and helps event organizers connect with nonprofits to attract more participants like you.
Additionally, the iCause Global Foundation enables good people to fund great causes around the world. Together, our impacts are limitless!