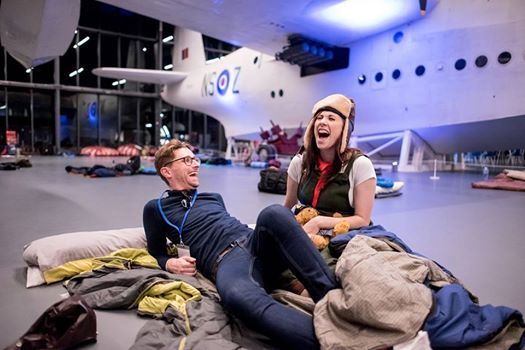 The Royal Air Force Museum, London, United Kingdom
The Royal Air Force Museum, London
Spread the word
Spend a night snoozing under a Sunderland Flying Boat!
Night Flight is back for 2019, don't miss the opportunity to spend a night at our London Museum. You have the chance to explore the galleries into the early hours, sit in our aircraft and climb into helicopters.
With a jam-packed programme this is a night you won't want to miss. There will be aircraft themed films all night ( the like of Con-Air and Battle of Britain ), a midnight pub quiz, open cockpits and cabins, Airfix make and take, crafty stations, talks and tours and of course a bar.
Lucky ticket holders will be greeted with a drink on arrival, then seated for a delicious dinner in Claude's Café, later snacks will be served during our midnight pub quiz. After a night's sleep under the aircraft a hot breakfast will be waiting for you in the restaurant. Tea and coffee will be available for free all evening, and a cash bar will be in operation until 1.00am.
Tickets
Early Bird Ticket: £105*
Standard Ticket: £120
Member Ticket: £100
*Early bird tickets will be available until the 1.00pm on 13 April 2019
Important information
This event is for over 18s only, you will be asked for ID upon your arrival.
The event starts at 7.30pm on Saturday 13 July, please make sure you arrive no later than 8.00pm.
You will be asked when booking tickets for your dietary requirements
We do not accept refunds for this event.
Please be aware that the Museum will not take responsibility for any lost valuable items, so we advise you to not bring anything of sentimental or financial value.
There will be security throughout the venue for the night.