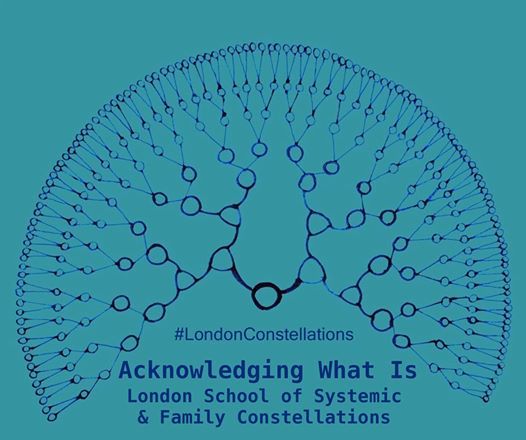 Acknowledging What Is - London School of Systemic & Family Constellations, 9 Broadhurst Mansions, 97 Broadhurst Gardens, NW6 3QP London, United Kingdom, London, United Kingdom
Acknowledging What Is - London School of Systemic & Family Constellations
Spread the word
Dear Constellations Explorers,
We are delighted to offer this training weekend and invite those who are interested in gaining deeper insights into the methodology and practice of Systemic and Family Constellations as facilitators to take part.
This workshop can be attended as a stand-alone Learning Weekend or as part of our Further Insight Training Programme, consisting of 3 weekends (part 1 to 3 dates below) + 3 private tuitions which are focused on facilitation of one-to-one Constellation work. Students are also offered a further immersion in 20 additional hours of workshop participation as part of this training.
The full Further Insight Training Programme includes Total 72 CPD Hours, Training fee £1150, Core Learning Weekend Dates are:
Part 1 - June 6th-7th
Part 2 - July 4th-5th
Part 3 - September 12th-13th
The purpose of this hands-on learning weekend is to enable participants to acquire new tools and gain fresh understandings of leading Systemic individual and/or group process.
The Further Insight weekends are focused on:
- Facilitator's Stance
- Embodied Systemic Perception
- How to Lead a Constellations Workshop
- Reading a Constellation
- The Healing Sentences
This training weekend is an invitation to further the knowledge of those who are seeking to actively engage with the work and incorporate it into their professional practice.
To read comments from participants in my workshops please click this link:
http://www.meetup.com/London-Family-Constellations/about/comments/?op=all
Systemic & Family Constellations brings clarity and deep understanding of our feelings and actions in critical areas of our lives such as our behaviour patterns, relationships, health and decision making process.
In this intensive learning and practice weekend workshop you experience Constellations for a deeper exploration of the essential principles the work is based upon.
You will experience the profound layers of the Constellations methodology and be guided in ways to harness the immense depth Systemic Constellations can bring into your life and the life of others. You will become a part of a small and intimate group of explorers from all walks of life who will be evolving together as a group and as individuals.
Course Tutor: Illi Adato MA Lon. Inst. GQHP. Crt(HYP). Crt(COACH). C-h-a-n-g-e.co.uk - Systemic, Organisational & Family Constellations ISCA Reg. | Hypnotherapy GHR & IHF Reg. | Tune-In Counselling | Advanced NLP Therapeutic Specialist™ | Facilitator of Systemic Ritual®
Looking forward to another moving experience of learning together,
Razna Begum
Workshop Coordinator
London School of Systemic & Family Constellations
LondonConstellations.uk
iCause.com promotes public events for free and helps event organizers connect with nonprofits to attract more participants like you.
Additionally, the iCause Global Foundation enables good people to fund great causes around the world. Together, our impacts are limitless!