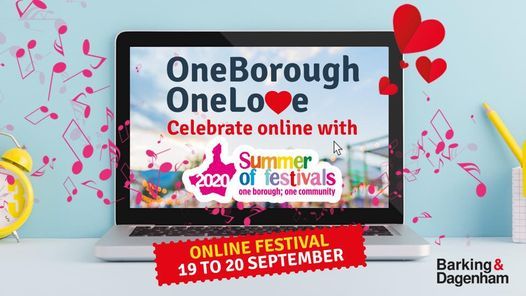 London Borough of Barking and Dagenham, RM8 3HT London, UK, London, United Kingdom
Summer of festivals
Spread the word
One Borough One Love Online Festival ❤️
To watch visit summeroffestivals.co.uk
The festival features all your favourite entertainment from Summer of Festivals including music, dance, poetry, family shows and chat, all from the comfort of your home.
Headlined by soul sensation Lulu staring roarsome children's TV presenter Andy Day ?, cult folk singer Beans on Toast, legendary reggae band Talisman, rockabilly with The Honkabillies, club classics with Show Me Love, Now That's What We Call 80s, SoulTown Divaz, tributes to Freddie Mercury and Dolly Parton and many many more!
The festival will showcase our amazing homegrown borough talent from the arts and cultural organisations in Barking and Dagenham.
The festival takes places online from 11am to 9pm.
See our website for the full programme!
There will be sets dedicated each day to the Barking Folk Festival, Steam and Cider Fair, One Borough Festival, Roundhouse Music Festival and the Youth Parade.
One Borough One Love dedications will feature at the festival sharing the amazing stories of our local heroes.
Thank you to our sponsors TEB Builders. Plus to Partybox and Doorsteps are donating prizes for our festival goers!
The Thank You Festival ? will take place when safe to do so in 2021 but we want to bring you a full festival experience so we can have a brilliant community celebration.
Sorry we can't bring you to the festival just yet but we are going to bring the best festival home to you!
Tell your friends and family to celebrate with us online and let's make this the biggest virtual festival ever! ❤️
lbbd.gov.uk/oneboroughonelove
iCause.com promotes public events for free and helps event organizers connect with nonprofits to attract more participants like you.
Additionally, the iCause Global Foundation enables good people to fund great causes around the world. Together, our impacts are limitless!