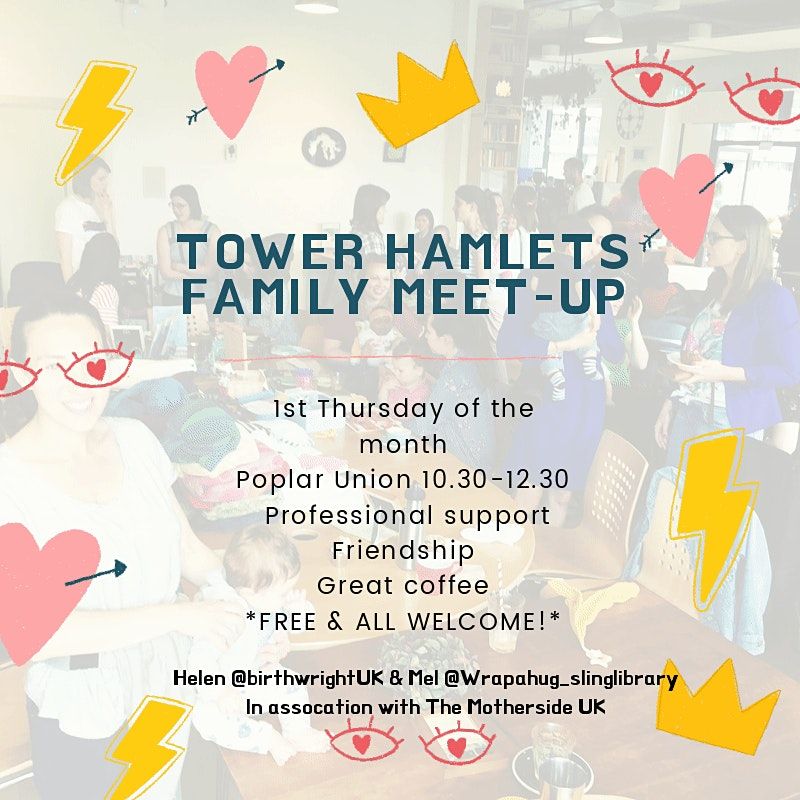 Poplar Union, 2 Cotall Street, London, United Kingdom
Eventbrite
Spread the word
***DUE TO THE CURRENT SITUATION, THE MEET-UPS ARE SUSPENDED UNTIL FURTHER NOTICE. OUR MEET-UPS WILL BE LIVE ON ZOOM EVERY OTHER THURSDAY AT 10.30AM. FOR INFO PLEASE JOIN OUR PRIVATE GROUP HERE:
https://www.facebook.com/groups/193307541467536/***
/>
Contact Mel at

mel ! wrapahug | gmail ! com

for more info and if you don't use FB :)

During this weird and wonderful time, we want you to know, more than ever before, that you are not alone. We are here for you to offer a safe space to connect with other local families for support and friendship. We'll have our usual perinatal and early years experts joining us to answer your questions and support you! How to join the meet-up:- For privacy reasons, please join our Private Tower Hamlets Family meet-up Facebook Group.Don't forget to answer questions to join.
https://www.facebook.com/groups/193307541467536
- Get Zoom ready on your computer- You'll find the link to join us via Zoom, over in our Fb group and instructions as well as the event for more info. Mark yourself as coming so you can get reminders!- On Thursday, all you need to do, is grab yourself a cuppa, hit the link and we'll see you on the other side! - We will start promptly at 10.30am
Any questions contact Mel! See you soon!
----- IN NORMAL TIMES-----
Come along to Poplar Union with your bumps, babies and toddlers on the 1st Thursday of every month, from 10:30-12:30, to enjoy a well deserved cup of coffee/tea and a yummy slice of cake at our FREE monthly family get together (in partnership with The Mother Side ® - Supporting mums through pregnancy, birth & motherhood!). Enjoy a friendly boost of positivity to help you along your journey through pregnancy into parenthood.We are a team of mums with a wide range of pregnancy and early parenthood knowledge and professional expertise. We can support you antenatally and postnatally in areas including; positive birth, birth place options, hypnobirthing, home birth, water birth, birth rights, birth support, placenta encapsulation, breastfeeding, babywearing, infant sleep, pelvic floor health, perinatal mental health, speech and language, cloth nappies to name but a few, as well as having a wealth of local knowledge between us and awesome network that we would love to share with you!Perinatal professionals and experts vary between meetings. Check out our posts for up-to-date info!Dads, grandparents, aunts and uncles are all warmly invited: this event is not just for mums.... #ittakesavillage We meet on the first Thursday of every month EXCEPT FOR JANUARY 2020: FIRST MEET-UP OF THE YEAR IS ON JAN 9TH.
£3 suggested donation to pay towards the cost of the room
iCause.com promotes public events for free and helps event organizers connect with nonprofits to attract more participants like you.
Additionally, the iCause Global Foundation enables good people to fund great causes around the world. Together, our impacts are limitless!