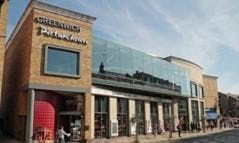 180 Greenwich High Rd, 180 Greenwich High Road, London, United Kingdom
Eventbrite
Spread the word
Join Danny & Nick - Opening Doors London - for older LGBT+ 50+yrs - Greenwich Film Club - 2019
Please note that as from February 2019 that this event will now take place on the 2nd Tuesday of the month.
Film Choice - Will be advertised and confirmed through Eventbrite one week in advance of this event, please note that your cinema tickets will need to be purchased at Greenwich Picture House on the day on a first come first serve basis.  
Please note that this is an event for Opening Doors London older LGBT+ people and is for LGBT+ people who are 50 years of age or older.
Tuesday – February 12th - Meeting at approximatly 12.30, the actual time for meeting and film times will be advertised one week in advance of this event. 
Where: Greenwich Picture House, 180 Greenwich High Rd, London, SE10 8NN - (near Greenwich DLR or Greenwich mainline) Free Tea & Coffee – Concessional admission(£6.90) & free Silver Screen membership. Film choice and meet up time will be advertised approximately a week in advance.
Please note attendance to this event MUST be through Eventbrite; the link to this will be advertised in the February listings. Please only reserve one ticket per named person and should you decide to cancel your booking then please cancel through Eventbrite. 
Please only book one ticket per person.