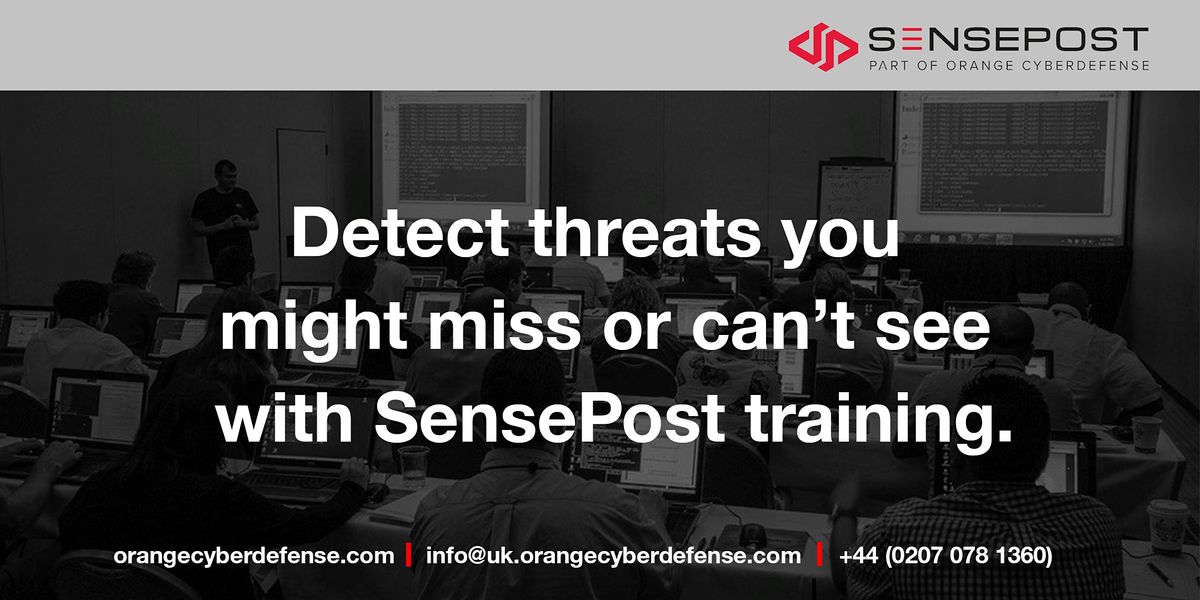 Arrow Education Services, 2nd Floor, London, United Kingdom
Eventbrite
Spread the word
***Ticket information: please note the course price includes VAT***
This course will teach you how to analyse web applications for vulnerabilities and exploit them.
SensePost has been conducting penetration tests against web applications for nearly two decades and has distilled its approach into this course. Providing a thorough and scientific approach, techniques to maximise coverage of an application will be taught.Whether you're a developer looking to better understand how to defend your applications or a penetration tester looking to enhance your web application bug hunting, this course is for you.This course is highly practical, with over 22 different practical exercises. You'll learn how to hand exploit numerous common web vulnerabilities, and understand the theory behind them. You will be better able to help developers prevent these classes of attacks in their applications. We aim to teach you the trade not just the tricks, and while tools are covered and help, you will be taught how to exploit many of these vulnerabilities by hand.No equipment other than a web browser is needed. We make use of a fully cloud-based and individual virtual training lab meaning no interference from other students, a robust and safe practise environment, and time to experiment throughout.
------------------------------------------------------------------------
------------------------------------------------------------------------Key Takeaways:
- A general approach and methodology for hacking web applications- A good understanding of the tools and techniques for examining web applications- Practical and practiced skills (there are a lot of pracs in this course)
------------------------------------------------------------------------Some of the topics covered:
Introduction to web technologies
Understanding the protocols that power the web and getting comfortable with how they look on the wire as well as intercepting and modifying them.
Cookies and Session Management
Understanding how sessions work in applications, and how cookies can be manipulated.
Introduction to Web Vulnerabilities
Theory on what a vulnerability is and an introduction to the OWASP Top 10
Client and Server Side Attacks
Understanding web architectures, and the threat models associated with them as well as several client and server-side vulnerabilities and related exploits.
Indirect Object References
Identifying and exploiting poor authorisations controls.
Brute forcing for restricted data.
Path traversal
Exploiting path traversal vulnerabilities and bypass restrictions.
Insecure file upload & file inclusion
Introductions to web shells and code execution attacks.
XSS/CSRF & DOM Injections & Cache Attacks
Manipulating the DOM with various attacks
The impact of CDNs and different browser headers
SQL & Command Injection attacks
Understanding data store and operating system setups and how to exploit and explore them
Java Deserialisation
Exploiting deserialisation vulnerabilities with ysoserial
APIs, Microservices & Widgets
Working with APIs, common formats, tools and vulnerabilities
Web Assembly Vulnerabilities
Understanding wasm
New attack surface exposed by wasm
Please note, refreshments and lunches included on both days.
------------------------------------------------------------------------
iCause.com promotes public events for free and helps event organizers connect with nonprofits to attract more participants like you.
Additionally, the iCause Global Foundation enables good people to fund great causes around the world. Together, our impacts are limitless!