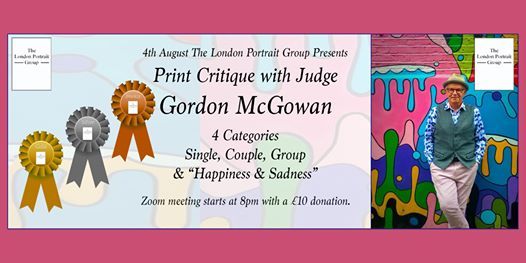 The London Portrait Group, 35 High Street, London, United Kingdom
The London Portrait Group
Spread the word
The highly renowned Gordon McGowan will be judging our images online via Zoom!
Print Critiques the best way to improve your photography. Don't be shy, do put some work in! You will learn so much more by entering. Don't worry, know body knows the author.... unless you are placed with a merit or above!
As always there are four categories; Singles (one person or pet), Couples (two people) and Groups (more than two people). The floating forth round this quarter is: "Happiness or Sadness".
Remember only one entry per category, the author should (In a manor of speaking) be at the meeting, no wedding photographs and all images should be from commissioned sessions and taken within the last two years.
As this is an online meeting, images should be sent to Janice, as a jpg file with the longest edge sized to 3,000 pixels. email the to:
janice | photographybyus ! co ! uk
before 11am on the 4th August.
The meeting starts at 8pm. on Zoom:
https://us02web.zoom.us/j/83459872500?pwd=YkRoL0lvWFRHQnd1RStjZ1dYZy8vdz09
Meeting ID: 834 5987 2500
Passcode: 806998
Entry is £10 which is for our supported charity, The Disabled Photographers Charity.
Please make payment to:
London Portrait Group
Lloyds Bank
00503571
30-90-39
Best wishes, your committee:
Ivan, Janice, Pani & Hoss
iCause.com promotes public events for free and helps event organizers connect with nonprofits to attract more participants like you.
Additionally, the iCause Global Foundation enables good people to fund great causes around the world. Together, our impacts are limitless!