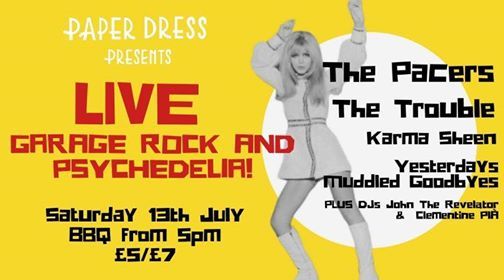 Paper Dress Vintage, 352A Mare Street, Hackney Central, E8 1HR London, United Kingdom, London, United Kingdom
Paper Dress Vintage
Spread the word
Join the Trouble & Friends for a night of Garage Rock & psychedelia at Paper Dress on Saturday 13 July.
? Live guests The Pacers, The Trouble, Karma Sheen & Yesterdays Muddled Goodbyes provide sizzling Garage Rock & Psych ?
? DJs John the Revelator & Clementine Plà will be melting the dancefloor till 3am ?
Playing live...
THE PACERS
https://www.facebook.com/ThePacersBand
/
Expect raw, pounding rock'n'roll a la Stooges and The Sonics, with a healthy dose of freakout psychedelia.
THE TROUBLE
https://www.facebook.com/thetroublegirlband
/
The Trouble fuse the bad ass biker grrrl image of the Sixties' sassy-soaked garage girl groups with the bitter heartbreak that poisons the era's favourite pop and punk songs.
Backed by an attitude-fuelled posse of leather-clad lounge lizards, The Trouble are a dramatic gin-swigging chorus suitably spiked with tongue-in-cheek tears - all over the long-lost losers they let break their hearts.
KARMA SHEEN
https://www.facebook.com/KarmaSheenband
/
A psychedelic Sufi rock band from London...an eclectic mix of nostalgic 60's psychedelia inspired music from the likes of The Jimi Hendrix Experience, Cream and The Doors, mixed with the flair of 90's grunge coupled together with creamy Indian classical sounds and Sufi inspired lyrics that complete the mountainous cake of sound that is Karma Sheen.
YESTERDAYS MUDDLED GOODBYES
https://www.facebook.com/yesterdaysmuddledgoodbyesband
/
Psychedelic shoegaze from these London newcomers
Plus DJs Clementine Plà & John the Revelator will be spinning vinyl gems till late
£6 advance // more on the door
????????????????????????