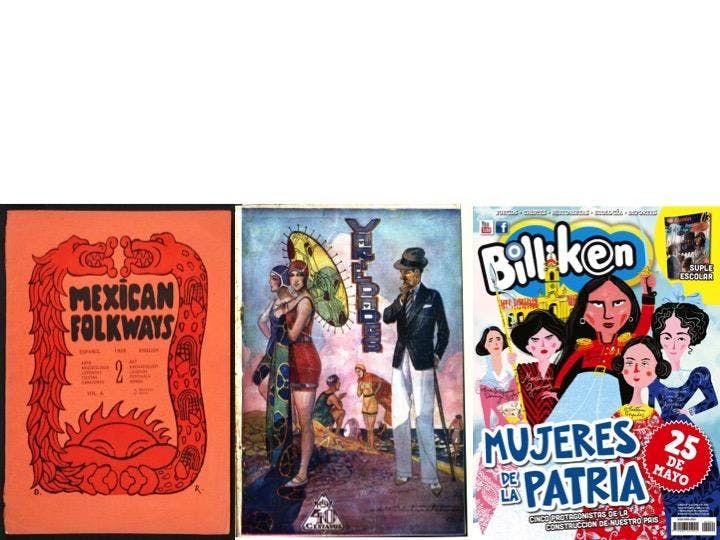 IAS Common Ground, University College London, London, United Kingdom
Eventbrite
Spread the word
In a field of study that has consolidated largely in Anglophone modernist studies, what and how is research being conducted on periodicals that have been produced and published in Latin America? 
How are the region's periodicals regarded as sources of historical knowledge; as material and aesthetic objects; and as pedagogical tools? What are the values attached to them by their creators, readers, and researchers? How are magazines and periodicals in Latin America distinctive from those of/in other parts of the world? And how useful are methodological frameworks developed in Anglophone scholarship in Latin America and vice versa? What are the methodologies and vocabularies that scholars of periodicals can share? How can work in/on Latin America enhance and/or expand emerging paradigms in periodical studies? And what are the differences determined by working on such materials in different disciplines and regions of Latin America? 
Considering the periodical as an autonomous object of study as well as a gateway to local and transnational cultures and histories, this conference aims to interrogate ways of reading and researching magazines and periodicals in Latin America: to consider how these heterogeneous, intermedial and serialised forms traverse boundaries between high, middle, and low brow as well as those between nations and between past and present. 
Keynote speakers: 
Benjamin Smith (University of Warwick. UK) and Sandra Szir (Universidad Nacional de San Martin, Argentina)
PROGRAMMEThursday 27 June2.00-2.15pm: Registration and welcome
2.15-3:30pm: Workshop [all participants]
3.30-4.00pm: Tea/coffee
4.00-5.00pm: Keynote speaker. Sandra Szir (UNSAM, Argentina)
Regímenes visuales y relatos materiales. Acerca de la prensa periódica ilustrada en el siglo XIX en Buenos Aires
5.00-6.30pm: Roundtable and launch
Revista Iberoamericana 267 (April-June 2019), edited by Maria Chiara D'Argenio
Magazines, Tourism, and Nation-Building in Mexico (Palgrave 2019) by Claire Lindsay
7.30pm Conference dinner
Friday 28 June9.15-10:30am: Transnational Networks• Jo Crow (Bristol): Amauta and the Boletín Titikaka: Transnationalising the "Indigenous Question" in Early Twentieth-Century Latin America• Camilla Sutherland (Groningen): The Contentious Cosmopolitanism of SUR (1931-1941)• Sofia Mercader (Warwick): Punto de Vista (1978-2008): a case study in the field of Latin American periodicals• Valeria Guimarães (Unesp/Fapesp): French magazines and Brazilian modernism in the early 20th century - transnational aspects
10:30-10:50: Coffee
10.50-11.50: Methodological Approaches• Marina Alvarado (Universidad Católica Silva Henríquez, Chile): La revista en Red: estudiar las publicaciones periódicas como constructoras de saberes• Ed King (Bristol), Independent Print Cultures and Networked Media in Brazil• Luis Rebaza-Soraluz (King's College London), In a very graphic language: modern vision, visuality and visual technology in the time of Fin de Siècle illustrated magazines
12.00-1.00pm: Keynote speaker. Benjamin Smith (Warwick)The Year Mexico Stopped Laughing: Satire, Censorship and the Mexico City Crowd
1.00-2.00pm: Lunch
2.00-3.00pm: Modern(ist) Imaginings• Luz Ainai Morales Pino (Pontificia Universidad Católica del Perú): Discursos escritovisuales en El Cojo Ilustrado en el entre siglos venezolano• María del Pilar Blanco (Oxford): Modernismo's Queer Edge: Julio Ruelas in the Revista Moderna (de México), 1898-1911• Ana Claudia Suriani da Silva (UCL), Fashion, Plays, and Politics: the Croniqueta by Arthur Azevedo in A Estação
3.00-3.20: Tea/Coffee
3:20-4.20: Cultural Industries and Identities• Rosi Smith (Nottingham) and Anne Luke (Leeds), Así Somos: Cuba's changing youth culture in the magazine Somos Jóvenes• Lucy Bell (Surrey), Cartonera Publishers: Collective literature as resistance and critical theory• James Scorer (Manchester), Before the Volcano: Latin American Comics Magazines (2006-2017)
4:30-5:15: Conversation. Lauren Rea (Sheffield) and Euhuen Matarozzo (Director of Billiken).
Transformando Billiken: Encuentros ente la investigación y la producción
5:15-5:30: Closing remarks