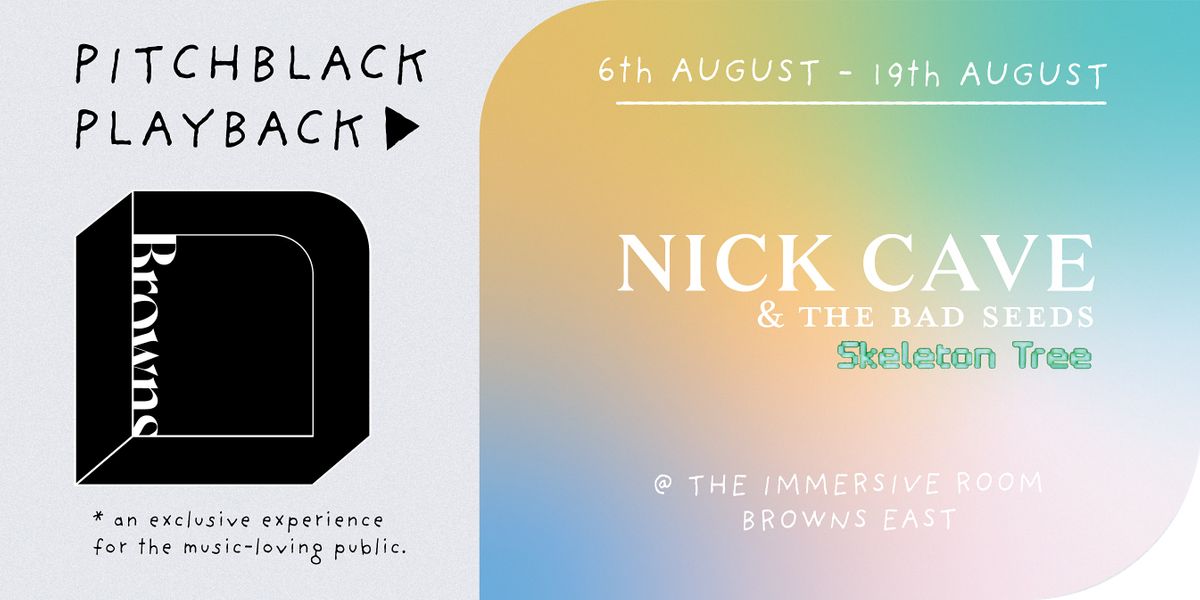 Browns East, 21 Club Row, London, United Kingdom
brownsfashion.com
Spread the word
Pitchblack Playback at Browns East: Nick Cave & The Bad Seeds, Skeleton Tree (Listening Sessions)
About this Event
This summer Browns East has teamed up with London's Pitchblack Playback, bringing you the ultimate immersive music experience to feed your festival blues, inviting you to listen to albums from start to finish in the dark.
From the 24th June, the Immersive Room will host an intimate private listening booth - a pitch-black space that offers visitors personal listening sessions of both classic LPs and highly anticipated releases within a deluxe soundproof room, designed by the masters of sleek sound design, Bang + Olufsen.
The line-up includes iconic musicians of the past and trailblazers of the future, and is an experience you can enjoy alone or with another member of your household. Heightening your audio senses, the Pitchblack Playback experience allows for total immersion in moments of iconic music history, old and new.
Next we welcome the Bad Seeds frontman, husband of The Vampire's Wife and master of the baritone, Nick Cave. This celebrated musician, writer and "master of darkness" has a career spanning over four decades, which we'll be celebrating with a listen to his 2016 album, Skeleton Tree.
Nick Cave & The Bad Seeds, Skeleton Tree (2016)
6th August – 19th August
One ticket is valid for up to two people from the same household and each session lasts 1.5 hours, allowing the room to be thoroughly cleaned between bookings.
For those who can't make it to Browns East, follow us on Spotify and stay tuned via our social channels @brownsfashion @brownsmens to experience the action online.
For more information please visit www.brownsfashion.com.
iCause.com promotes public events for free and helps event organizers connect with nonprofits to attract more participants like you.
Additionally, the iCause Global Foundation enables good people to fund great causes around the world. Together, our impacts are limitless!