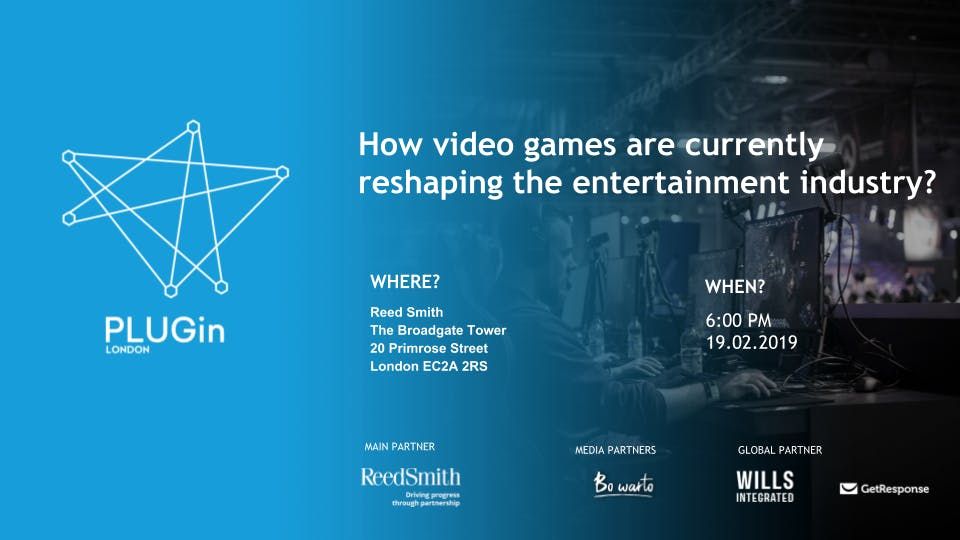 Reed Smith, 20 Primrose Street, London, United Kingdom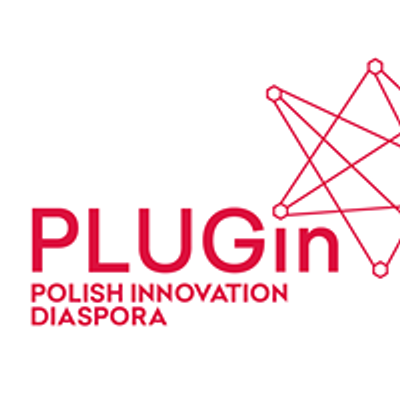 PLUGin - Polish Innovation Diaspora
Spread the word
The UK video games industry is now estimated to be worth £3.86 billion, more than music and video combined. Globally, video games continue to capture our attention in novel ways, pierce new demographics, and extend into new markets. Competitive video games (esports) are increasingly stealing headlines as competition prize pools and viewership figures balloon. Businesses are looking for ways to capture this momentum in a meaningful way and unlock demographics that are beyond the reach of traditional media. In doing so, they will have to understand how video games are changing the way entertainment is consumed, distributed, and monetised. Innovation in video game production, cross-platform integration, marketing, and broadcasting is having a significant impact on the shape of the entertainment industry as we know it.
The event will be live-streamed on our Facebook page.
Agenda:
6:00 PM - door opens & networking
6:30 PM - Welcome and introduction from the host's: PLUGin Chapter Head and gaming legal team (Reed Smith)
7:00 PM - panel discussion starts
7:45 PM - panel ends, drinks & networking on site
8:30 PM - event finishes & move to a nearby pub for the afterparty (TBC)
Stay tuned- more info will be announced soon on  event Facebook page.
Would you like to be a speaker at the next event or partner with us?
Please contact Anna Kondratiuk at: 
Anna ! Kondratiuk | weareplug ! in
Want to join the team or become a partner? Get in touch:
london | weareplug ! in
!
Like us on Facebook: facebook.com/PLTechLink
Follow us on Twitter: @WeArePlugIn  or on Facebook: @PLTechLink 
Event powered by Reed Smith
Organizers: 
PLUG is a growing team of tech professionals dedicated to spreading awareness about Polish innovation. We organize Polish Tech Day, an exclusive conference in London where the hottest Polish and Polish-British tech companies share their experience in worldwide expansion and discuss the current challenges of the market. We also host regular meetups in San Francisco, London, Wroclaw and - soon - Warsaw.
PLUGConnects - by networking events and community networking toolsInspires - spark new ideas, explain the fast-changing world around us and how the current and future technologies may impact the business and societyEmpowers - provide tools, skills and opportunities for personal & business growth and development and lobby for Polish Tech diaspora
Reed Smith
Reed Smith is a global law firm with more than 1700 lawyers in 28 offices around the world. We advise our clients on a wide range of issues across five main industries – Financial Services, Life Sciences and Healthcare; Energy and Natural Resources; Transportation; and Entertainment and Media.Our Entertainment and Media Industry Group is a global, multi-disciplinary team of lawyers based in strategic locations throughout the world, including in London, Los Angeles, New York, Hong Kong, Beijing, Shanghai, Paris, Munich and the United Arab Emirates. The group acts as a trusted advisor in all aspects of the entertainment and media industries.
Whether measured in volume of work, quality, the range of clients, or by the scale and complexity of matters handled – Reed Smith is a leading law firm in this sector. Our understanding of the most complex deals and our overall knowledge of the business allow us to act promptly and effectively in increasingly competitive environments. We advise clients across the following areas: Advertising and Marketing, Entertainment and Media Industry Disputes, Film and TV, Internet Commerce and Social Media, Music and Entertainment, Sports, Technology and Telecommunications, Video games and esports.
HOW:We run a number of local and global initiatives that make achieving the above possible. 
What else do we do? See our website: weareplug.in.
Before sending us your data, you need to become acquainted with the Privacy Policy: 
http://weareplug.in/privacy_policy.pdf, where
you will find information on the controller of your personal data, your rights, the purpose and the period for which your data are processed, the recipients of your data and any other information related to protection of your personal data.
Would you like to join PLUG and help organize events globally, expand your business network and gain experience working on valuable projects? Email us on 
team | weareplug ! in