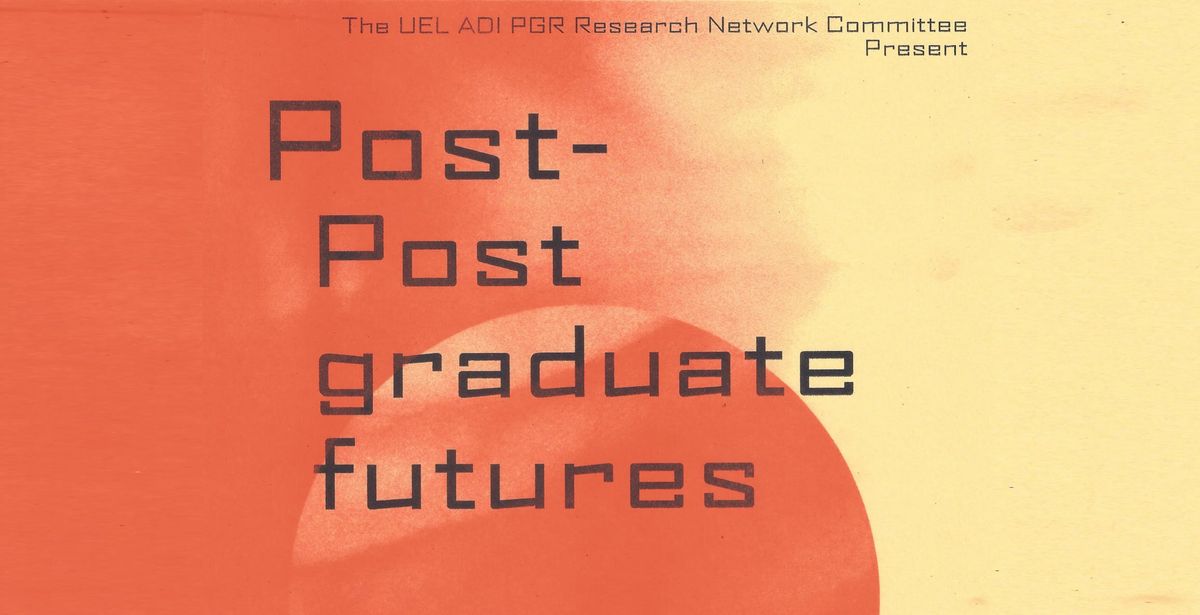 Harvard Lecture Theatre, 1st Floor, University Square Stratford Campus: Birkbeck, University of London, London, United Kingdom
Eventbrite
Spread the word
The Post-Post-Graduate Futures event aims to provide valuable insight and support in three main issues facing postgraduate researchers; Publishing, Funding and Thesis-Crafting. 
Organised by the UEL ADI PGR Research Network Committee, this free event is open to postgraduate students of all levels and disciplines both within The University of East London and beyond. There will be a particular focus on work related to the Arts and Digital Industries and the intergration of practice and research, however, we also aim to offer interdisciplinary relevance across a number of specialist subjects.
There are a limited number of spaces available for this event, so please book your free ticket in advance.
INDICATIVE TIMETABLE
09:45 - Welcome & Registration
10:00 - Publishing your Research 
Confused about academic publishing? Need support in understanding the peer review process? Want advice on how to approach publishers or journals? The Publishing your Research panel will offer advice and information on the process of publishing your research. Featuring representatives from Palgrave Macmillan and JAWS (Journal of Arts Writing by Students), the panel will be followed with an opportunity to ask any questions you may need answering.
11.30 - Coffee break
Coffee provided.
11:45 - Funding your Research 
Have a research idea but unsure how to gain the funds to support it? The Funding Your Research talk will be led by Grantcraft, who specialise in writing and supporting grant applications, and will offer information on what support is available for researchers and advice on how best to secure the funding needed for your project. Grantcraft work with academics from institutions across Europe and the UK, writing, optimising, and supporting funding applications.
13:15 - Lunch break
Buffet-style refreshements provided.
13:45 - Crafting your Thesis 
Writing a thesis can be a long and lonely business. From research to write-up, there can be many unexpected complications and ever-changing problematics. Featuring previous PhD and Proffesional Doctorate students who have succesfully 'come out the other end' of the postgraduate process, the Crafting Your Thesis seminar will provide you with space, support and advice in relation to your thesis research. This seminar aims to provide guidance in overcoming the specifc obstacles you are currently dealing with in the crafting of your thesis in a friendly and supportive atmosphere. Please ensure you complete this survey to participate in the session. 
15:45 - Finish
------
Please note regarding Crafting your Thesis seminar:
In advance of the session, please follow the link below to let us know of any issues you are facing,so that we can address your issues specifically. Thank you.
https://www.surveymonkey.co.uk/r/M22N8Z2