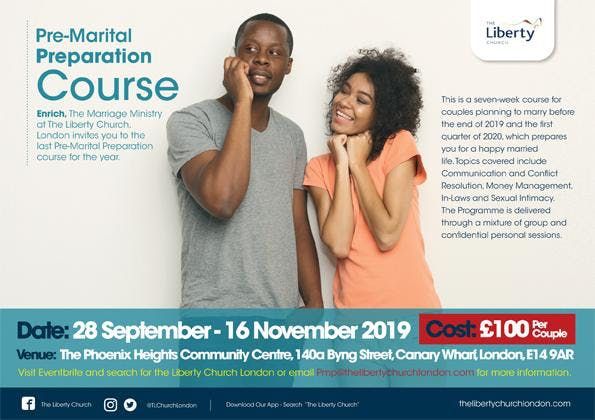 The Phoenix Heights Community Centre, 140a Byng Street, London, E14 9AR, London, United Kingdom
Eventbrite
Spread the word
Enrich, the Marriage Ministry at The Liberty Church London invites all engaged couples or couples planning to marry, to its last Pre-Marital Preparation course for this year.
It is a seven-week course based on biblical principles, which will prepare you for a happy married life. Topics include; Communication, Conflict resolution, In-Laws, Money Management and Sexual Intimacy.
So, if you or anyone you know plans to get married later this year or early next year, you cannot afford to miss the opportunity to ensure you build a strong foundation for your marriage.The cost of the course is £100 per couple, and it includes your course material and light refreshments.
It will run from Saturday 28th of September 2019 until Saturday 16th of November 2019 starting at 10.00am prompt each Saturday, at:
The Phoenix Heights Community Centre, 140a Byng Street, London, E14 9AR.
To register and pay, please visit the Events Desk after the service or search for the Liberty Church London on Eventbrite.
For additional information please send an email to
pmp | thelibertychurchlondon ! com