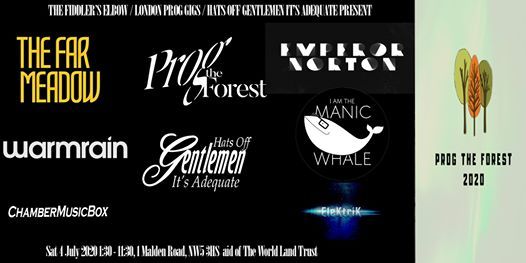 Fiddler's Elbow - Camden, 1 Malden Road, NW5 3HS London, United Kingdom, London, United Kingdom
Hats Off Gentlemen It's Adequate
Spread the word
Hats Off Gentlemen It's Adequate (HOGIA) and friends in association with London Prog Gigs present a one day festival of progressive music at the Fiddler's Elbow - Camden, London (UK), with profits to be donated to the World Land Trust.
The World Land Trust buys threatened rainforest, to protect in trust, to stop them getting chopped down. Trees make oxygen, without which breathing is a bit pointless. So protecting the trees is good for the wildlife, and good for us staying alive. A win-win really. We are aiming to be able to raise enough to protect at least an acre.
The event will showcase the diversity of modern progressive rock and related genres.
Acts include (in alphabetical order) -
Chambermusicbox - innovative classical chamber music group composed of top British and European soloists, chamber musicians and principals of major orchestras. They will be performing progressive classical music, and joining HOGIA in performances of chamber arrangements by Malcolm Galloway of Pink Floyd's Shine On You Crazy Diamond and selections from The Wall.
EleKtriK - Three piece instrumental prog from Bridgend
Emperor Norton - "Emperor Norton have delivered a well thought out and crafted debut that is certainly an impressive calling card. Miss these guys at your peril". The Progressive Aspect
The Far Meadow - "outstanding music, topped with superb female vocals, sounds as adventurous Neo Symhonic Rock, highly recommended!" Prog Archives
Hats Off Gentlemen It's Adequate - Prog magazine Limelight feature artists, fusing alt/prog-rock and electronic elements with science and science fiction, recommended by Steve Hackett.
I Am The Manic Whale - "musicianship of the highest order - this is British symphonic prog at its very best" Prog Archives
Warmrain - Voted no2 in Prog magazine readers' poll of top unsigned prog bands.
Accompanied children are welcome until 6pm. Due to licensing requirements the venue is 18+ after 6pm
A small number of very early bird discount tickets will be available to order online at £12.
Event 18+ after 6pm
If you require a reserved seat please let us know.
iCause.com promotes public events for free and helps event organizers connect with nonprofits to attract more participants like you.
Additionally, the iCause Global Foundation enables good people to fund great causes around the world. Together, our impacts are limitless!