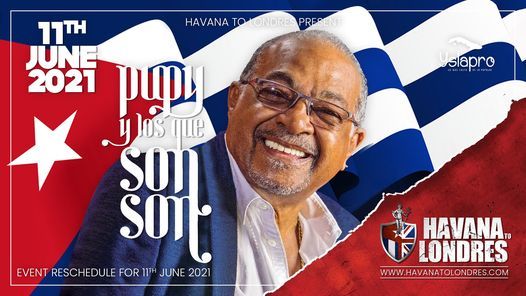 Electric Brixton, 1 Town Hall Parade, London, United Kingdom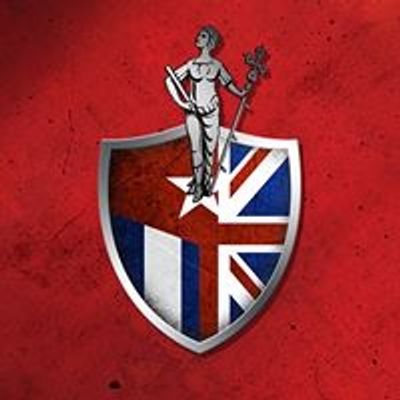 Havana to Londres
Spread the word
The Live Cuban Event of the Year! The highly anticipated return to London of one of Cuba's very best bands PUPY & LOS QUE SON SON
Cesar 'Pupy' Pedroso brings his legendary orquesta, Los Que Son Son, to the UK. Along with Los Van Van, who Pupy was a founding member of and composed many of the bands classic hits for, Pupy Y Los Que Son Son sits right at the top of Cuba's extraordinary musical tree.
THE LAST CONCERT IN LONDON 2015 WAS SOLD OUT SO ACT NOW! TICKETS WILL SELL LIKE HOT CAKES! EARLY BIRD TICKETS ARE JUST £25 WHEN YOU BUY IN JANUARY. REGULAR ADVANCED TICKETS £30 WHEN YOU BUY FROM FEBRUARY
Pupy first rose to fame as an outstanding pianist in Elio Revé's mighty Orquesta Revé, and then as the founding member, along with Juan Formell, of Cuba's most popular dance band, Los Van Van. During his 32 years with the band he composed some of their greatest hits: "Seis Semanas", "El Buenagente", "Disco Azúcar", "Eso Está Bueno", "El Negro Está Cocinando", "Temba, Tumba y Timba", "La Bomba Soy Yo", "Ni Bombones Ni Caramelos", and "¡Qué Cosas Tiene La Vida!", to name but a few. Anthems which every Cuban knows by heart to this day.
In 2001 he left Los Van Van to form Pupy Y Los Que Son Son. And if his music had been good before, with the new band it went ballistic! As well as producing thrilling new versions of many of his popular Los Van Van songs in the intervening 14 years, his extraordinarily infectious blending of "Son con Rumba" continues to inspire dancers across the world to this day: "Me Estan Llamando", "El Cache", "Un Loco Con Una Moto", "Un Poquito Al Reves", "De La Timba A Pogglotti", "A La Italiana", "La Machucadera". The list goes on and on. In an island of musical prodigies, Pupy really does stand out. Ask your local specialist Cuban DJ who their favourite artist is. That's right. You've guessed it!
ALBUMS
Que cosas que tiene la vida (2002)
El buena gente (2004)
Mi timba Cerra (2005)
Tranquilo que yo controlo (2008)
Siempre Pupy (2012)
Sin Limite (2014)
Pasándola Bien (2018)
VIDEOCLIPS
La Candela
amp;
El Cache
Pasándola bien
Nadie se las sabe toda
La borrachera
La Habana
La preferencia
La conga pelotera
La Cuenta Decisiva
Me estan llamando
Dicen que dicen
Este año
No me interesa
-----------------------------------------------------
PROGRAMME
CONCERT
21:00 - Doors open to the Public
21:00 - 23.00 DJs on the decks
23:00 - 01:00 Pupy y los que Son Son Live on Stage
01:00 - 03:00 DJs on the decks Party!!!
WORKSHOPS
TO BE ANNUNCED SOON...
-----------------------------------------------------
CONCERT VENUE
ELECTRIC BRIXTON
Town Hall Parade, London, SW2 1RJ
24 Hour Tube: Brixton Tube Station (Victoria line)
Train: Brixton National Rail
Buses Day & Night:
https://tfl.gov.uk/bus/stop/HUBBRX/brixton
-----------------------------------------------------
TICKET PRICES
SINGLE CONCERT "SATURDAY 13rd June"
Puppy y los que Son Son
£25 - Early Bird Ticket January
£30 - Advance Ticket (Saturday Concert)
£35 - At the door
This concerts is going to sell out - just 900 ticket available.
AVOID BOOKING FEE AND PAY DIRECTLY TO OUR BUSINESS BANK ACCOUNT OR PAYPAL:
HAVANA TO LONDRES
Barclays Bank
Sort Code: 207015.
Account No: 63068013
paypal.me/havanatolondres
IMPORTANT please select to send as FRIEND OR FAMILY option
Also please contact me to let me know that you have made a payment on 07857125390 Text/WhatsApp
*** SPECIAL PROMOTION ***
MEET & GREET VIP EXPERIENCE PACKAGES
More Information Call Text/WhatsApp 07857 125 390
MAKE SURE YOU SECURE YOUR TICKETS & BUY NOW FROM OUR OFFICIAL SELLERS, YOUR FAVOURITE DJs AND LONDON PROMOTERS & SPONSORS
-----------------------------------------------------
MORE INFO & BOOKINGS
Online:
www.havanatolondres.com
AVOID BOOKING FEE AND PAY DIRECTLY TO OUR BUSINESS BANK ACCOUNT OR PAYPAL
For further Information or to buy tickets Call/ Text/ WhatsApp 07857 125390