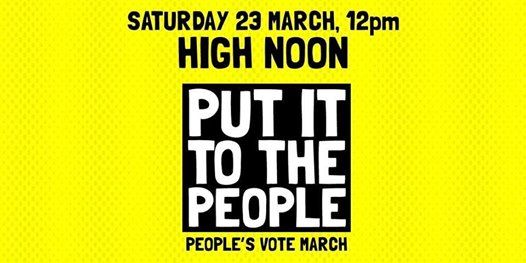 Parliament Square, Westminster, SW1P London, United Kingdom, London, United Kingdom
Oxford For Europe
Spread the word
Join us on 23rd of March for the 'Put It ToThe People March' to make the calls for a People's Vote too loud to ignore
On the 23rd of March, just six days before the Government hopes to take Britain out of the EU, hundreds of thousands of people will march on Parliament offering a solution to a crisis that threatens their living standards, businesses and jobs. We demand a People's Vote, and come 23 March, it could be a case of now or never.
We will be congregating from 12pm, high noon in Park Lane, and marching to Parliament Square to make our voices heard. Our demand is a simple one: that any Brexit is put the people so that we can have the final say. This will be a day to tell your children about, to tell your grandchildren about.
DATE: 23 March 2019
TIME: Arrive from 12pm to march at 1pm
WHERE: Meet on Park Lane, Central London
For more information visit
www.peoples-vote.uk/march
Oxford for Europe will be sending coaches as for previous marches in London and we want you to join us for the journey. Please book your place on our coaches via the link here on Eventbrite. Tickets will be £12 (Standard), £5 (over 16-25), Free (under 16). As before we will be leaving from St Giles (outside The Ashmolean), at 9am with further pick-ups at Brooks University (Headington Hill) and Thornhill Park and Ride (bus stop opposite). We expect to be in London before 11am and will join the rest of the marchers on Park Lane for a 12 Noon start. Time is short, so please book your place on our coaches as soon as possible so we can tell numbers and know whether we need to book additional coaches.
If you choose to travel independently, meet up place for Oxford marchers will be as before at the Café in Hyde Park by Brookes Gate.