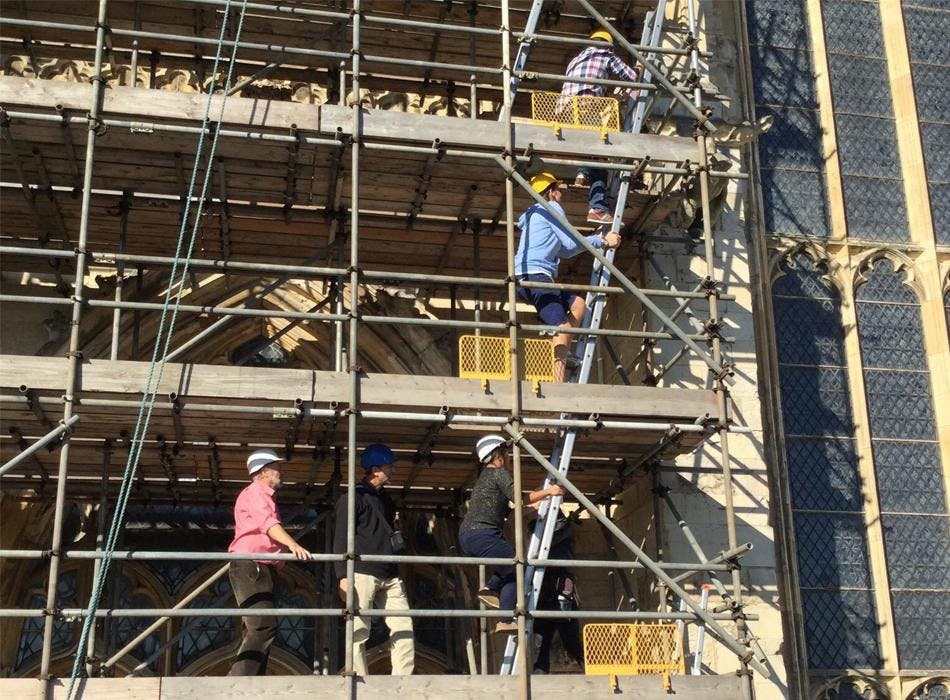 BDP, 16 Brewhouse Yard, London, United Kingdom
RIBA London
Spread the word
RIBA Conservation Course
The RIBA Conservation Course is an important step on the ladder towards a specialism in conservation. It will provide you with a framework of knowledge and understanding to support your decision making process on projects and enable you to apply for recognition of your skills within the RIBA and other Conservation Accreditation Schemes.
The course is aimed at architects and other construction professionals who:
wish to develop their specialism in conservation architecture
want to develop practical knowledge and skills in conservation
wish to refresh their knowledge or formalise learning from experience in the field
need to provide evidence to support their application onto the RIBA Conservation Register and other accreditation schemes.
Course content and structure
This four day course addresses the philosophical and practical requirements associated with the responsibility of working on a historic building. Attending the course will help you develop critical awareness and knowledge of conservation work and be of direct practical application. It is structured as a four day intensive course comprising three workshop based days and a practical application day.
Day 1 Philosophy and ethics
Day 2 Practical conservation
Day 3 Operational conservation
Day 4 Site visits and the RIBA accreditation application process
The four day interactive course includes practical site visit, refreshments, lunch, learning materials and RIBA Conservation Course attendance certificate.
Dates for the course run:
Day 1 and Day 2 (31st October -1 November)
Days 3 and Day 4 (7-8 November)
Course leader
Janie Price, Kennedy O'Callaghan ArchitectsJanie has a diploma in conservation from the AA and is accredited as SCA and AABC. Her work includes conservation architect for Bletchley Park and the Antarctic Heritage Trust. She is experienced in a wide variety of conservation work at all work stages, from mediaeval farmhouses to palaces and design guidance in conservation areas. She was co-speaker on the RIBA Conservation Course in 2017 and is an assessor for the conservation register for the RIBA and CARE.
Days 1 to 3 will be delivered by Janie, with a co-speaker and guest speakers where indicated. Speakers may vary from course to course to suit availability and location, however, the course content will remain consistent.
Course speakers
David McDonald, Historic Environment Training Ltd, co-speaker for day 1
Marion Barter, Marion Barter Associates Ltd, co-speaker for day 2
Andrew Shepherd, Andrew Shepherd, co-speaker for day 3 
Other guest lecturers
​​​Scott Sigal and Inigo Menchacatorre​, St Astier
​Geoff Maybank​, surveyor
Core Curriculum Topics
1. Building, conservation and heritage2. Legal, regulatory and statutory compliance3. Procurement and contracts4. Architecture for social purpose
Terms and Conditions
Cancellations are acceptable in writing up to 20 working days of the event, please contact
riba ! cpd | riba ! org
 for cancellation requests.
Substitutes are permitted at any time, please contact 
riba ! cpd | riba ! org
 for substitution requests.
The RIBA accepts no responsibility for the views or opinions expressed by speakers or any other person at the event
A photographer will cover this event and the images may be used to publicise future RIBA events.
By accepting an invitation or purchasing a ticket you consent to being photographed, filmed or recorded as a visitor attending the event. 
If the RIBA has to postpone or cancel the event the booker is entitled to a full refund of the ticket price only.
On entry to the event you agree to accept and abide by any venue rules. 
The RIBA reserves the right to refuse admission to any ticket holder.
The details you provide will be processed in line with the RIBA's GDPR obligations. For information on how we handle your personal data please see our Privacy Policy.