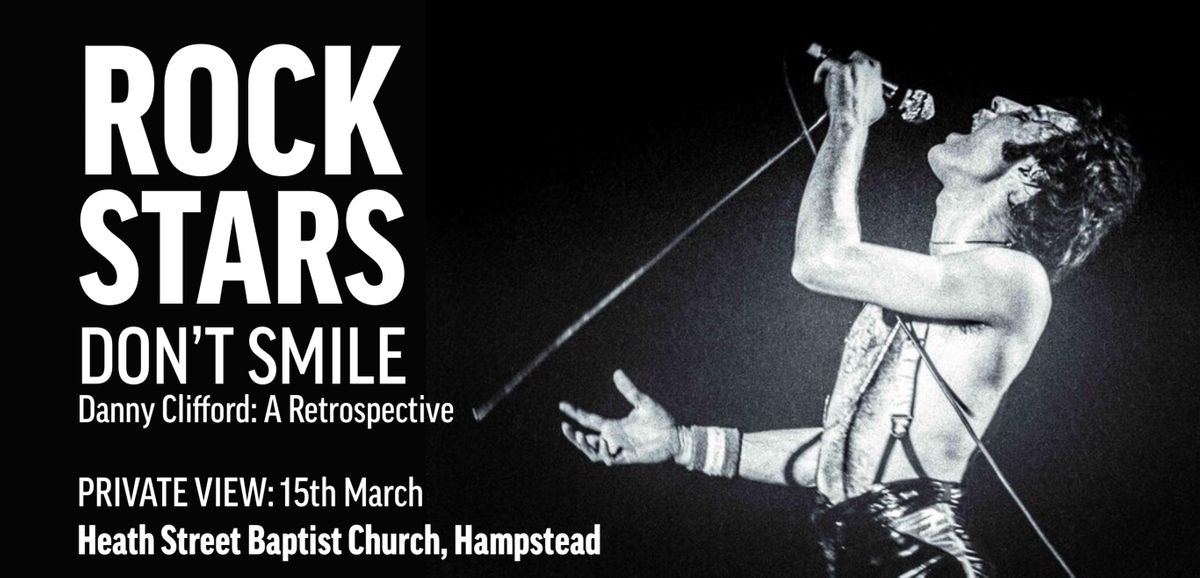 Heath Street Baptist Church, 84 Heath Street, London, United Kingdom
Eventbrite
Spread the word
PRIVATE VIEW: The opening night of the exhibition, with live music from special guests, the legendary John Altman and friends on 15th March from 6pm. Access is guest-list only, so please book your free tickets below.
A retrospective exhibition of photographs from the archive of Danny Clifford. A career in exclusive pictures and stories from backstage with musical icons:
FREDDIE MERCURY
BOB DYLANAMY WINEHOUSETHE WHOOASISTHE ROLLING STONESSIR PAUL McCARTNEYQUEEN
BEYONCÉSIR ELTON JOHNFRANK SINATRASTATUS QUO
DAME SHIRLEY BASSEY
World-renowned Rock and Roll photographer, Danny Clifford has spent his career as a 'fly-on-the-wall' to the most iconic musicians of the last 40 years. From his big break as Bob Dylan's official photographer in the 1970s, through his close working relationships with Queen, The Who, The Rolling Stones and Amy Winehouse to name but a handful, the stories he has amassed over the years are as vivid, colourful and dramatic as his photographs. With the title quote from a near-miss scuffle with Liam Gallagher, this is an exhibition of fine art prints, previously untold stories and an access-all-areas insight into the Danny Clifford archive.
MUSICAL GUEST: John Altman is a legend of the music industry. Emmy and BAFTA winner, 19 platinum records and 4000 commercials say it all! A globally celebrated composer, conductor and arranger, John counts Judy Garland, Frank Sinatra and Laurel and Hardy among his early colleagues. John played saxophone with Jimi Jendrix and Bob Marley, arranged songs for George Michael and Barry White and conducted for the Royal Philharmonic Orchestra. This list barely scratches the surface. John is a close, long-standing friend of Danny and will be gracing the stage on the night of the private view with a selection of musical friends. John and Danny will also be doing an audience Q&A night (dates to be announced), discussing their respectively remarkable careers in the music industry.