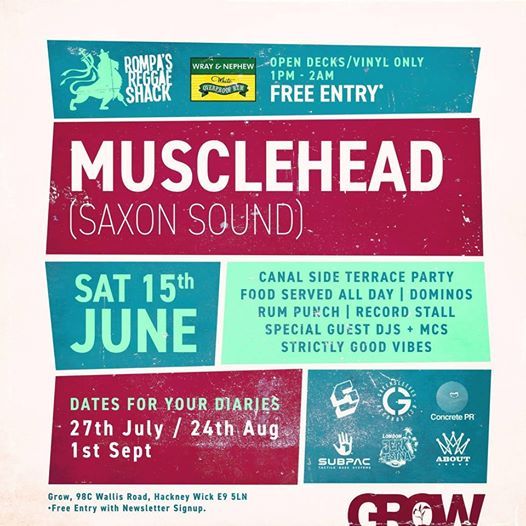 Grow, Hackney, 98C Wallis Road, Main Yard, Hackney Wick, E9 5LN London, United Kingdom, London, United Kingdom
Rompa's Reggae Shack
Spread the word
???Rompa's Reggae Shack Open Deck Vinyl Only Sessions Sponsored by Wray & Nephew UK ???
SIGN UP FOR FREE ENTRY:
http://bit.ly/2wytZpx
SPECIAL GUEST: MUSCLEHEAD (Saxon Sound)
DATE: Saturday 15th June
VENUE: Grow, Hackney
TIMES: 1pm-2am
ADDRESS: 98C Wallis Road
✔ FREE Entry
✔ Canal side
✔ Day party
✔ Headline guests
✔ Open Decks / Vinyl Only
✔ Rum Punch Raffle
✔ Record Store
✔ Dominos Competition
✔ Special guests
✔ Sweet Vibes
✔ Giveaways from Greensleeves Records
Dates for the diary:
June 15th / July 27th / Aug 24th
WANT TO DJ?
✔ Open decks, vinyl only
✔ First come, first served
✔ Ask for the promoter, we will add your name to the wall
✔ Look at the time next to your name, keep an eye on time
✔ You will be responsible to get yourself on the decks
✔ You will have 20 minutes to play your tunes
✔ Once you play you can ask for your name to be added again
✔ Arrive early to guarantee a space, it's gets busy
✔ Reggae, dub, ska, dancehall, steppas, jungle, roots, soca
EVENT INFO
✔ Sign up for a ticket
✔ Ticket doesn't guarantee entry
✔ If event is 1-in-1-out people with tickets will be prioritised
✔ We are open from 1pm-2am now
About Grow, Hackney
Carved out of an old sausage factory, Grow has been transformed into an independent canal side bar, kitchen and creative space. It was built, and is run by a small team. We operate as a ethical and sustainable business and rely on the creative sharing economy of Hackney Wick and the surrounding area. We partner with artists, musicians, DJ's and community groups to and hold as many free events as we can. We have a range of craft and organic drinks at the bar and the kitchen serve a seasonal menu freshly prepared in the canalside kitchen. More at
www.GrowHackney.co.uk