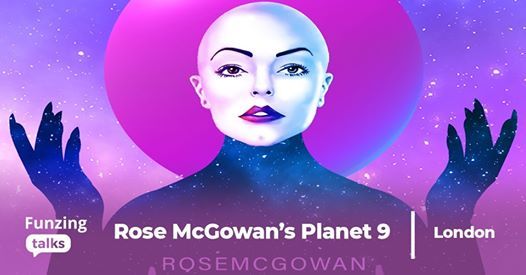 Shoreditch Town Hall, 380 Old Street, EC1V 9LT London, United Kingdom, London, United Kingdom
Workshops
Spread the word
Join Funzing for the new show by best-selling author, actress and activist Rose McGowan!
Through memoir, music, storytelling, projections and performance Rose creates a new world of possibilities: Planet 9. She invites the audience on a healing journey of discovery to this new planet.
The antidote to all that is earthbound, from here we can see Earth from a new perspective and learn how to create a liberated, fairer society for ourselves.
Like moon dust, Rose hopes you will take a little piece of Planet 9 with you wherever you go.
After her film debut in a brief role in the comedy Encino Man McGowan achieved wider recognition for her performance in Gregg Araki's dark comedy The Doom Generation, receiving an Independent Spirit Award nomination for Best Debut Performance. She had her breakthrough in the horror film Scream and subsequently headlined the films Going All the Way, Devil in the Flesh and Jawbreaker.
During the 2000s, McGowan became known to television audiences for her role as Paige Matthews in Charmed. She made her directorial debut with the short film Dawn (2014).
A feminist activist, McGowan has released a memoir, Brave, and starred in the four-part documentary series Citizen Rose, both in 2018.
In 2017, Time recognized McGowan as one of the Silence Breakers, the magazine's Person of the Year, for speaking out about sexual assault and harassment.