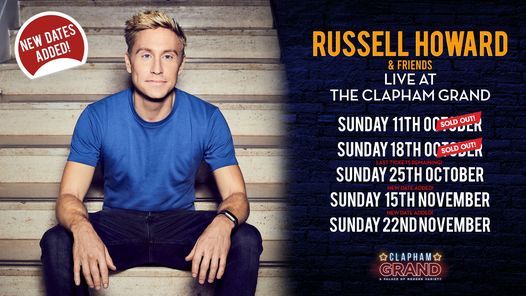 The Grand, 21- 25 St John's Hill, Clapham Junction, SW11 1TT London, UK, London, United Kingdom
The Grand
Spread the word
EXTRA DATES ADDED - RUSSELL HOWARD LIVE AT THE CLAPHAM GRAND ?
Sun 6th Sept - SOLD OUT
Sun 13th Sept - SOLD OUT
Sun 20th Sept - SOLD OUT
Sun 27th Sept - SOLD OUT
Sun 4th Oct - SOLD OUT
Sun 11th Oct - SOLD OUT
Sun 18th Oct - SOLD OUT
Sun 25th Oct - On Sale Now
Sun 14th Nov - On Sale Now
Sun 22nd Nov - On Sale Now
http://link.dice.fm/russell-howard
?
After his September shows here sold out in a flash, we are delighted that one of our all time favourite comedians has added yet another set of dates through October! ?
Join Russell Howard for a unique night of work-in-progress stand-up, alongside some of his favourite comedians. A rare opportunity to see one of the most successful comedians in the country working up brand new material in the intimate setting of The Clapham Grand! Russell is a comedian, television presenter, radio presenter and actor, best known for his TV shows Russell Howard's Good News and The Russell Howard Hour, and his appearances on the topical panel TV show Mock the Week.?
He's incredibly donating all proceeds from his first show to our #savethegrand campaign, meaning that one of the first shows we do after our Covid-19 closure is going to help us stay open to host so many more! THANK YOU RUSSELL ?❤️
SEATING & TABLES PRICING & ALLOCATION
Due to physical distancing and our venue layout we can only sell individual tickets in our Upper Circle which we are afraid isn't always open. All other tickets will be sold in pairs, 3's & tables of 4 across The Stalls and Circle. Tickets are priced per person plus a £1 restoration fee and a 10% booking fee each. When you go to purchase your tickets you can see the area of the venue you are buying within and DICE will automatically allocated the best seats in that area. Seats must be purchased in pairs, 3's or 4's, unless its for the Upper Circle.
PRE-ORDER DRINKS & FOOD
We will contact you the day before the show with our pre-order drinks so we can have all this ready for you when you arrive to increase speed of service. We will have a full bar & snacks (crisps, buts and chocolate) menu on the night, which will be card only via table service. We sometime have hit food on a show by show basis, please check with us in advance. Snacks & Food isn't available as pre-order.
ABOUT THE CLAPHAM GRAND
The Clapham Grand has been providing entertainment for 120 years, and is one of the UK's oldest remaining Variety Halls. After a successful crowdfunder campaign to prevent permanent closure during Covid-19 we are beginning to open with a run of physically distanced events, which whilst operating at a loss gives as the chance to bring our staff back to work, time to rebuild out business model and most of all have you back to be entertained here again.
In 1900 we were built to give performers a stage and our customers an amazing night out, with everyone from Charlie Chaplin and Morecambe & Wise to Oasis and Bianca Del Rio performing, and we are incredibly grateful to be able to reopen and continue to do so. If you have any questions at all about the show don't hesitate to email us on
info | claphamgrand ! com
.
Thank you so much for all your support so far, we can't wait to have you back with us.
COVID SAFETY
It's amazing for us to be able to get back open again to host events, but nothing is more important that your safety! We just wanted to let you know what measures we have in place to make sure you have a safe & brilliant time with us! ?
All our tickets are for groups/bubbles under 6 people ?
Physical distancing throughout the venue ⬅️ ➡️
Face masks until seated (we have spares if caught short!) ?
Table service for drinks ?
ALL the anti-bac ?
Track & trace baby ✍️
Temp checks on entry! ?
Government approved pilot live show ✅
Following guidelines The Clapham Grand will be allowed to have performances after 10pm, if they start before 10pm, and our bars will stop serving at 10pm
Any questions at all hit us up -
info | claphamgrand ! com
- we're here to give you the safest & best night out! ?
COVID CANCELLATION
In the event of a show cancellation due to any Covid restrictions we will reschedule the event and transfer your tickets over. If we can't reschedule we will give a full refund minus the booking fee.
SMOKING AREA & CLOAKROOM:
We will also only open our smoking area when everyone is inside the venue, which we estimate will be about 8pm.
Unfortunately due to the nature of Covid Compliance we aren't able to operate our Cloakroom so you will be required to keep coats and bags on you. Please don't bring anything larger than a rucksack into the venue, if this is unavoidable please contact us in advance so we can make arrangements for you!
TOILETS
Due to distancing our toilets are limited in capacity, so please bear with us, especially during intervals as you may have to queue!
PARKING
Unfortunately we don't have any parking at the venue, but we are opposite Clapham Junction station! The cheapest parking available is at
www.justpark.com
in the station.
ACCESSIBILITY:
If you require assistant in accessing the venue please don't hesitate to contact us in advance so we can make sure can facilitate this.
AGE RESTRICTIONS & ADDRESS:
We are afraid it is an 18+ show.
Our address is 21-25 St John's Hill, SW11 1TT. We are directly opposite Clapham Junction Station (St John's Hill exit side).
MORE INFO
This is an 18+ show.
If you have any accessibility questions about coming here please visit our website here
https://claphamgrand.com/accessibility
/ & if you have any further questions don't hesitate to get in touch.
iCause.com promotes public events for free and helps event organizers connect with nonprofits to attract more participants like you.
Additionally, the iCause Global Foundation enables good people to fund great causes around the world. Together, our impacts are limitless!