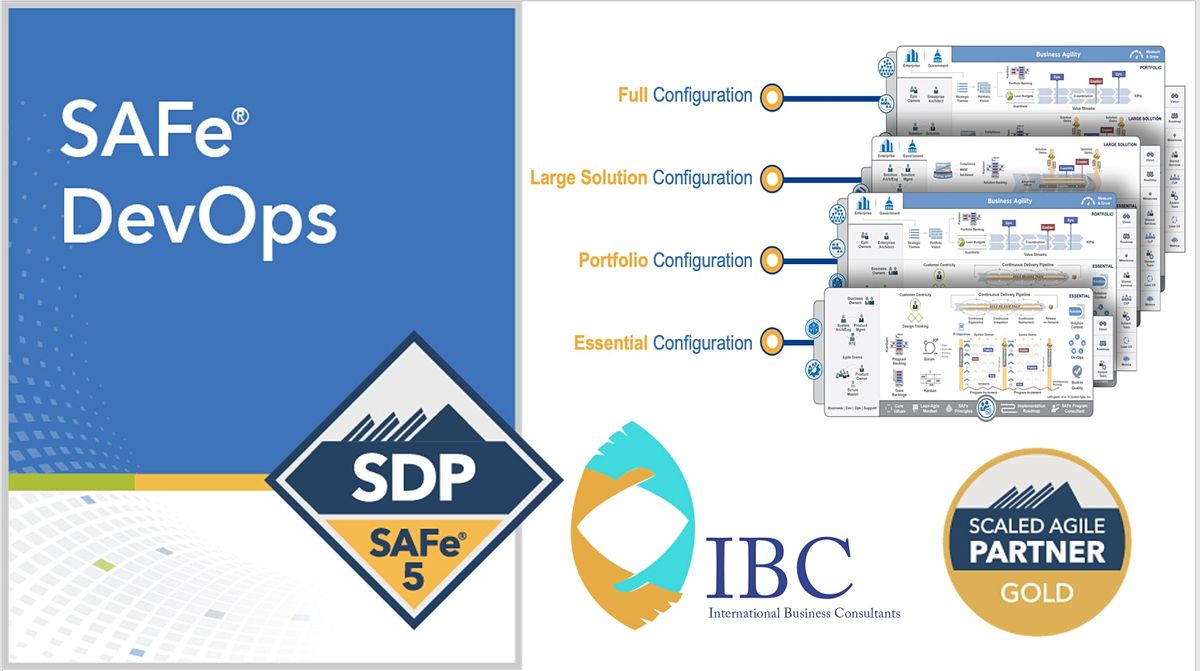 Remote class, ONLINE, London, United Kingdom
International Business Consultants LLC
Spread the word
Description
About this Event
Job Role Description / Target Audience
A SAFe 5 Certified DevOps Practitioner (SDP) is a SAFe professional responsible for improving the complete flow of value through a Continuous Delivery Pipeline from idea to operational solution. Key areas of responsibility include participating in Continuous Exploration, Continuous Integration, Continuous Deployment, Release-on-Demand, continuous testing, continuous security, and building a culture of shared responsibility.
Key Areas of Competency

Describe what DevOps is and why it is important
Build a culture of shared responsibility across the value stream
Continuously explore user needs
Describe architectural considerations for continuous delivery
Build and integrate the system continuously
Improve the quality of the system with continuous testing
Deploy systems to staging and production environments continuously
Release systems to customers and manage recovery as necessary
Maintain security by inspecting continuously for vulnerabilities
Measure the flow through the Continuous Delivery Pipeline
Support a SAFe DevOps transformation in the enterprise
Exam Requirements

The first step toward becoming a SAFe Certified Professional is to attend the SAFe 5 DevOps Practitioner course. This is a requirement, because attending the course provides access to all the study materials and the exam. Note that attending the course does not guarantee passing the exam.

Exam Details

Exam name – SAFe 5 DevOps Practitioner Exam
Exam format – Multiple choice, multiple response
Exam delivery – Web-based (single-browser), closed book, no outside assistance, timed
Exam access – Candidates can access to the exam within the SAFe Community Platform upon completion of the SAFe 5 DevOps Practitioner course
Exam duration – Once the exam begins, candidates have 90 minutes (1.5 hours) to complete the exam.
Number of questions – 45
Passing score – 33 out of 45 (73%)
Language – English
Exam cost – First exam attempt is included as part of the course registration fee if the exam is taken within 30 days of course completion. Each retake attempt costs $50.
Retake policy – Second attempt on exam (first retake) can be done immediately after first attempt. Third attempt requires a 10-day wait. Fourth attempt requires a 30-day wait. Contact
support | scaledagile ! com
for any retake questions.
Exam Study Materials

The exam is designed to measure knowledge and skill related to the job role. We highly recommend candidates use a variety of resources to prepare for this exam including:

Course Materials – The course materials are an essential artifact from the course and can be downloaded from the SAFe Community Platform. These materials can be used to reference back to the content that was specifically presented during the class.
Study Guide – This comprehensive guide details the job role and all resources related to the exam, including a detailed reading list. Access is available through the Learning Plan in the SAFe Community Platform upon course completion.
Practice Test – The practice test is designed to be predictive of success on the certification exam*, and it has the same number of questions, level of difficulty, and time duration. It is part of the Learning Plan in the SAFe Community Platform and can be taken an unlimited number of times at no cost. *This is not the actual exam and passing it does not guarantee success on the certification exam.
Sample test – Download questions
What Attendees Get

Becoming a certified SAFe 5 Certified DevOps Practitioner requires an exceptional range of skills and is a career path for many Scrum Masters. Certification includes:

SAFe 5 Certified DevOps Practitioner PDF certificate
SAFe 5 Certified DevOps Practitioner digital badge to promote the accomplishment online
One-year membership to the SAFe Community Platform, which includes access to the SDP Community of Practice
Access to Meetup groups and events that provide connections to other SAFe certified professionals
A variety of learning resources to support certified professionals during their SAFe journey

iCause.com promotes public events for free and helps event organizers connect with nonprofits to attract more participants like you.
Additionally, the iCause Global Foundation enables good people to fund great causes around the world. Together, our impacts are limitless!