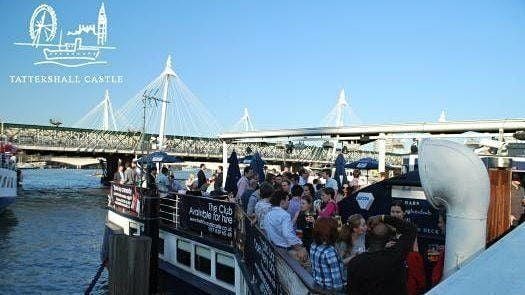 Tattershall Castle, Whitehall, London, United Kingdom
Eventbrite
Spread the word
Saturday Social Get Together on Tattershall Castle Boat, Welcome Drink
About this Event
A valid proof of ID in original (Passport, European id, or Driving Licence) may be required on arrival. The Boat has a bag search policy.!

ADVANCE TICKET ONLY (CASH Payment Won't Be Accepted at the venue)


If you see "UNPAID" next to your name and you have paid for a ticket. I dont use meetup to process tickets so there is no way for meetup to update ticket sales. When you buy a ticket to an event you will receive confirmation after you have paid for your ticket, the host will also have your name on the guest list!


WE ARE ONLY ALLOWED TO BRING 20 X PEOPLE TO THIS EVENT/ THE TABLES IN THE LOUNGE ROOM HAVE BEEN SPACED OUT TO ALLOW FOR 20 PEOPLE COMFORTABLY/ OR YOU CAN GO UP ON DECK! We have made some changes to ensure you can enjoy your time with us safely. These include new safe distancing measures, a new app, so that you can order without leaving your table, and some small changes to our menus (don't worry, we will still be offering all of your favourite dishes!)


Here is a short video explaining our new safety measures in more detail/ https://www.bestcitypubs.co.uk/welcome-back?utm_source=social&utm_medium=organic&utm_campaign=welcome_back_city-bars&fbclid=IwAR2iisjPXNSmQv4P8-rR6_mtecUNTpJC8lFh1qSjI-qfRFegr9Eivc0OGk0
/>


On arrival at TATTERSHALLL CASTLE BOAT from 7pm onwards tell the SECURITY at entrance reservation is under Michelle/ MM Connections Event/ You will be directed downstairs to the main bar, you will see signs that say MICHELLE/ MM CONNECTIONS.! Follow the signs downstairs to the lounge room and when you get to the bottom of the stairs, your name will be checked off the guestlist or, you must show the host your confirmation email ticket either printed out or show on your phone!


All guests arriving between 7pm and 8pm will receive 1 welcome drink. Host will be meeting, greeting and introducing all our guests to each other as they arrive so expect a mixed crowd of friendly and welcoming London based professionals who come along to make new connections, socialize, and unwind.



As you walk across the walkway you will see signs that say "MICHELLE/ MM CONNECTIONS please make your way downstairs we have booked this awesome room for this event, we have also reserved space for guests who wish to mingle with each other on the deck in the in the evening!



THE NIGHTCLUB IS NOT OPEN UNTIL THE GOVERMEMNT HAS GIVEN THE THE GO AHEAD/ THIS EVENT IS FROM 7PM - 11PM AS THE BOAT'S LAST ORDERS IS 11PM/ Nearest tube is Embankment/ Westminister) THE BOAT IS DOCKED IT DOESN'T MOVE!! (Come out of pier side Embankment Station, turn right walk towards westminister abbey and the boat is opposite the park)!


Tattershall Castle Boat

Kings Reach

Victoria Embankment

London
iCause.com promotes public events for free and helps event organizers connect with nonprofits to attract more participants like you.
Additionally, the iCause Global Foundation enables good people to fund great causes around the world. Together, our impacts are limitless!