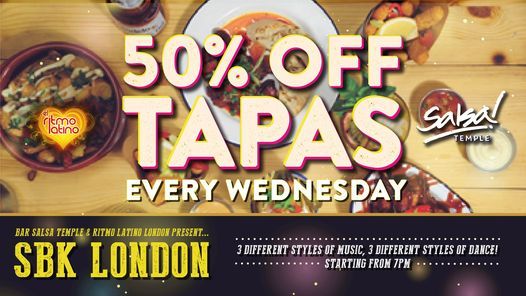 Bar Salsa Temple, Temple Place, WC2R 2PH London, UK, London, United Kingdom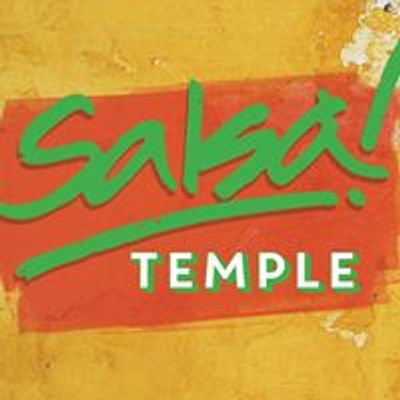 Bar Salsa Temple
Spread the word
S.B.K LONDON WEDNESDAYS at BAR SALSA TEMPLE:
Every WEDNESDAY at Bar Salsa TEMPLE: Ritmo Latino London brings you SBK WEDNESDAYS:
"THE Temple of Rhythm and Dance"
Start your night with Happy Hour from 5pm - 8pm and 2 for 1 SIGNATURE COCKTAILS and if you are hungry... Tapas and full food menu till late.
If you want to learn to dance Salsa, Bachata and Kizomba or if you are already an expert, our team of international teachers will be at hand to give you the best dance tuition.
Dance Classes are spread over two floors.
Floor 1: ARENA ROOM
**7:00pm - 7:50pm: Salsa (3 Levels)
**7:50pm - 8:40pm: Bachata (3 Levels)
**8:40pm - 9:30pm: Bachata II (3 Levels)
Come to learn or stay to party with us till 2am with the Ritmo Latino Sound Machine DJs. DJ Chino, DJ Julian Mister M.
2019 looks like it will be a year full of beautiful shows from international and national artists, top international DJs, guest teachers and parties to make your Wednesday nights not be the same ever again. We are all about energy and love to dance and meet new people, so if this is you... come and join us for a memorable night of dancing!!
Teaching team on Wednesdays:
* Julian Mister M (Salsa & Bachata)
* Angela Mariano (Salsa & Bachata)
* Angelica Marion (Salsa & Bachata)
* Sergio Suarez (Salsa & Bachata)
* Levente (Salsa & Bachata)
* Jade (Salsa & Bachata)
There will be guest teachers every month.
**9:45pm - 2am: Salsa Bachata Kizomba and Latin rhythms party with the Ritmo Latino Sound Machine DJs and some of the top DJs from around the world invited to our special party nights.
Guestlist is available via text.
Just send the names of all your guests to this number: 07584905169.
iCause.com promotes public events for free and helps event organizers connect with nonprofits to attract more participants like you.
Additionally, the iCause Global Foundation enables good people to fund great causes around the world. Together, our impacts are limitless!