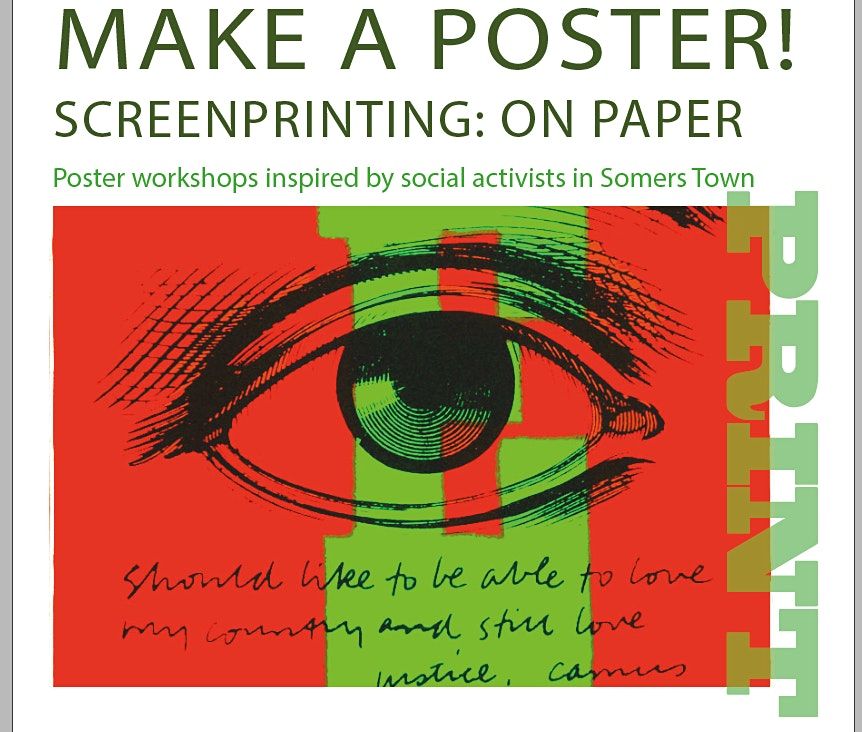 Make space, Story Garden and ONLINE, MAKE @ Story Garden, London, United Kingdom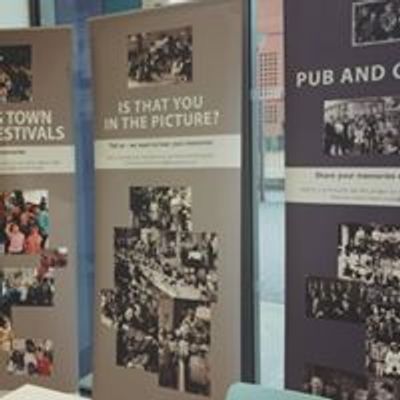 Somers Town History Club
Spread the word
Workshop led by artist printmaker
Create your own prints inspired by local history of social activism!
About this Event
Make a poster inspired by radical lives in Somers Town history!
Learn simple screen printing to create prints in friendly workshops with an expert tutor and printmaker Melissa Fry.
Taking inspiration from Somers Town History of social reformers we will work in the style of radical pop art Sister Corita Kent.
This inspiring activity is the perfect end to a busy week!
This event will be streamed ONLINE as there is a socially distanced LIMIT of 6 people - please book for both. Details will be sent of how to connect.
We will include typography and monotyping.
Note: we will teach basic techniques for those at home who do not have frames.
Our tutor will cover techniques and equipment in week 1 so you can prepare.
Week 1: Live demonstration of techniques and explanation of how to/ equipment
Inspiration from Somers Town History - Wollstonecraft, Jellicoe, Godwin, Irene Barclay and more!
Prepare your poster idea for week 2.
Week 2: Live demonstration; making stencils, preparing ink, monotyping
Week 3: Print!
Organised by Somers Town History Space and Engage
Instructions
Please join the invitation ahead of time to check all works: test your video and audio before the call. 
Step 1. To call - Click this link:LINK TO BE PROVIDED
Step 2. Join us! At the start we will take a couple of minutes to say hello and make sure all can hear. 
At the end we'd appreciate feedback. We'll send a survey.
Tip: check your sound works in preferences ahead of time!Make sure you have a device connected online, video and audio capabilities.
System requirements for
Trouble shooting
Q: Cannot hear?
A: Check your device or computer sound is on - (see your system preferences) or turn up the sound!
Q: too slow?
A: Turn off all other applications - just have open. 
Still a problem?  check your internet connection. 
Q: Cannot see? A: Make sure your device has video.
Q: No-one can hear me when I speak? A: make sure you are not on mute - this is a microphone icon at the bottom right of the screen. Click it to turn off mute.
Q: No-one can see me? A: Probably the video is switched off- click the small 'film camera' on at the bottom right of the screen. Click it to turn on. Here is an image of the 3 icons - take care - the red one will switch the call off!
Q: I don't know where to write my comments. A: Look at the bottom right of your screen there is a speech bubble - that will open the 'chat' on the right of your screen.
NOTE: The organisers cannot control your connection or reliability of your connection. 
Donations welcome to help us preserve heritage in this area and support our organisation. 
iCause.com promotes public events for free and helps event organizers connect with nonprofits to attract more participants like you.
Additionally, the iCause Global Foundation enables good people to fund great causes around the world. Together, our impacts are limitless!