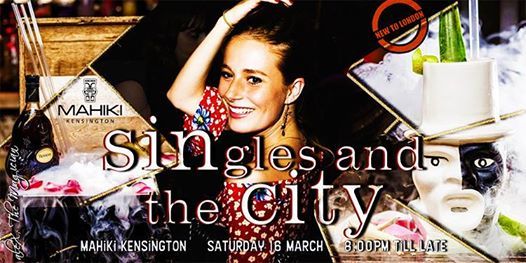 Mahiki Kensington, 2A Kensington High Street, W8 4PT London, United Kingdom, London, United Kingdom
New To London
Spread the word
>>> RSVP and Secure your VIP Invitation now (only £8 before 12 March!):
https://singles-n-the-city-16mar-at-mahikiken.eventbrite.co.uk
I SOLEMNLY SWEAR in an unreleased episode of SEX and the CITY, Carrie said, "It's a SIN to be single in London... in a sexy, blossoming Spring" ;)
That's why on Saturday 16 March, we gather together for our 'SINgles and the CITY' VIP Party at one of London's Top Clubs...
>>> Mahiki KENSINGTON...
THIS is the updated Polynesian PARADISE in a new, EXOTIC and ESCAPIST tropical setting in the ROYAL Borough... where royals and 'financial blue bloods' can be found sipping London's finest Pina Coladas.
It is located right next to Kensington PALACE — pretty much at the end of the driveway!
>>> HOW the EVENING is GOING to UNFOLD...
WHETHER you are brand new to London or a Londoner, come alone or in a group, I'll introduce you to the other charming Guests so you MAKE New FRIENDS Right Away.
As it is the norm with all my Parties, this is a GRAND OPPORTUNITY for You to:
— EXPAND Your SOCIAL CIRCLE
— CONNECT with New COOL FRIENDS
— NETWORK with People who can ENHANCE Your CAREER
— MEET that SPECIAL PERSON and ENJOY a Wonderful LIFE
>>> SINGLE BEST VIP OFFER in TOWN!
(What You Get with Your Ticket)
ALL Guests arriving between 8:00pm and 9:00pm receive:
— 1. SIGNATURE COCKTAIL on arrival (The Mahiki) — Green Island Spiced and Mahiki Coconut Rum shaken with pear, strawberry and citrus. Served long, topped with bubbles.
— 2. GUARANTEED VIP ACCESS to Club Night
— 3. A SPECTACULAR SURPRISE after 10pm at our own Club Table (can't tell you anymore because I am sworn to SECRECY but I promise you are going to LOVE this ;)
>>> ADVANCE TICKET ONLY EVENT
(Payment Won't Be Accepted at the Door)
CLICK on the following link to book your Ticket:
https://singles-n-the-city-16mar-at-mahikiken.eventbrite.co.uk
>>> DRESS CODE...
SMART casual and SEXY — i.e. "dress to impress".
LADIES: cocktail dresses and high heels.
GENTLEMEN: collared shirt and leather shoes (suit jacket or blazer depending upon the weather).
NOTE: No ripped jeans, T-shirts, or trainers of any kind are allowed.
>>> Your HOST...
I WILL be at Mahiki Kensington from 8:00pm, personally introducing guests to each other to ensure you have a GREAT time.
Looking forward to meet you for a SINgles & the CITY Affair... that'll put a smile on your face every time you picture it ;)
aleX |*| The MAGICIAN
New To London \o/ Elite Parties
"Smart Socials 4 Imaginative Individuals"
W:
https://www.meetup.com/Elite-Parties-London
F:
https://www.facebook.com/NewToLondon