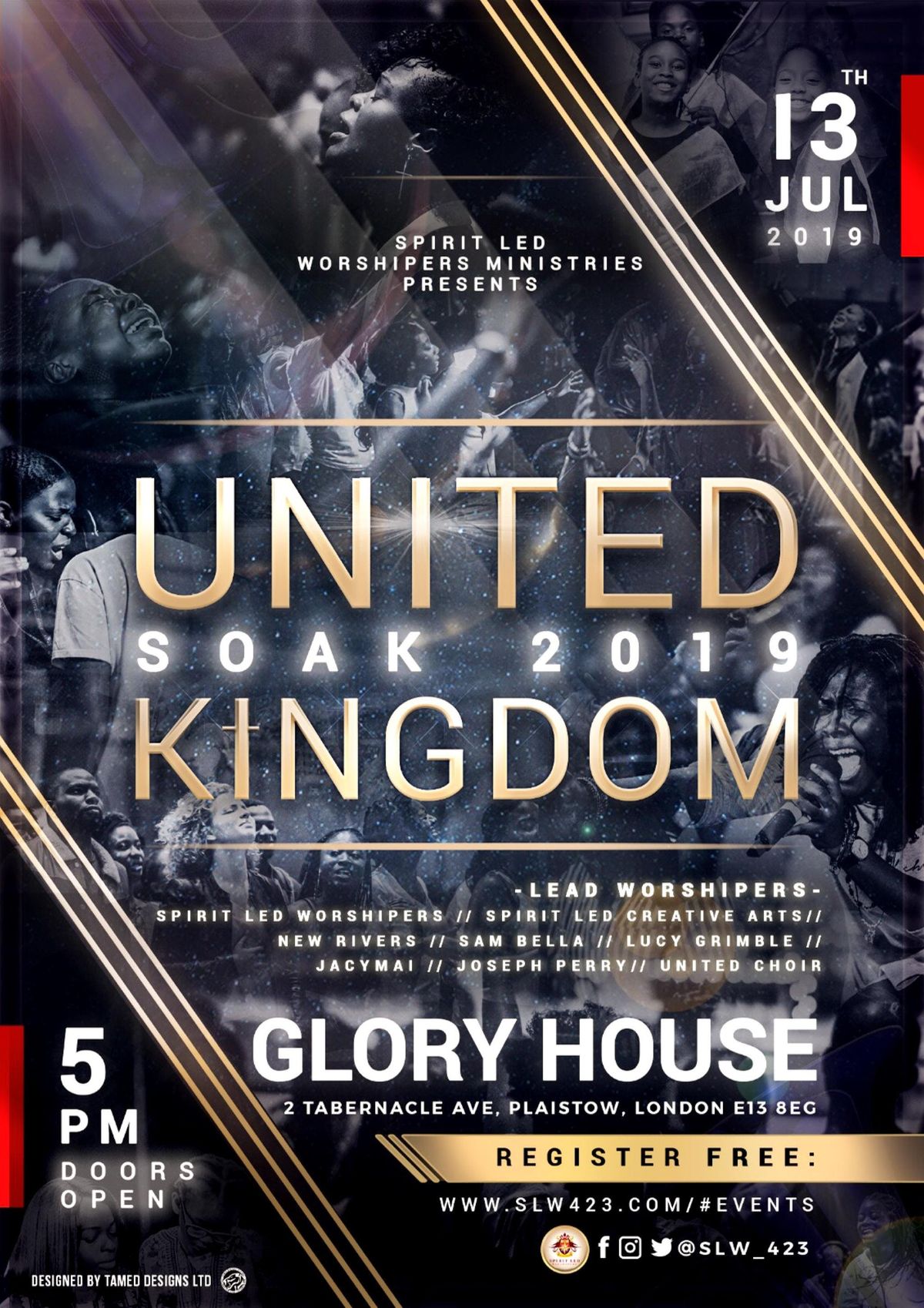 Glory House!, 2 Tabernacle Avenue, London, United Kingdom
Eventbrite
Spread the word
S.O.A.K (Shout Of A King) is an annual gathering of worshipers from all over the globe hosted by the Spirit Led Worshipers family (SLW).
Now in it's six edition, we have seen worshipers from different churches, ages and ethnicity gather to worship our Heavenly Father. We have seen miracles, signs and wonders, we have seen worshipers encounter ABBA in a deeper way, we have seen ministries birth and others revived as well as dreams coming alive in His Presence! We have seen people get married after SOAK was there first date :). We wave seen people be filled with Holy Spirit. 
WE BELEIVE THERE IS MORE!
The Theme is: United Kingdom 
We are calling all sons and daughters of Heavenly Father to come magnify Him with us in heartfelf worship and fervent intercession. On this night the sole purpose is to release a sound as United Kingdom from the United Kingdom, lifting a collective offering of worship as the bride of Christ. 
"My people, who are called by My Name, humble themselves, and pray and seek (crave, require as a necessity) My face and turn from their wicked ways, then I will hear [them] from heaven, and forgive their sin and heal their land." (2 Chronicles 7:14)
"O LORD, I have heard thy speech, and was afraid: O LORD, revive thy work in the midst of the years, in the midst of the years make known; in wrath remember mercy." (Habbakkuk 3 vs 2)
In the darkness of the time, we will be the light of hope. In roar of the raging storm, we will be the voice of peace as we lift up The Shout Of Our King. 
Lead Worshipers: 
Sam Bella 
Lucy Grimble 
Jospeh Perry
Jacymai 
United Choir 
Spirit Led Creative Arts
Spirit Led Worshipers 
Many More....
Be a part of the Culture. 
Praise Yahweh!
For more information contact us at
www.slw423.com
Email-
info | slw423 ! com