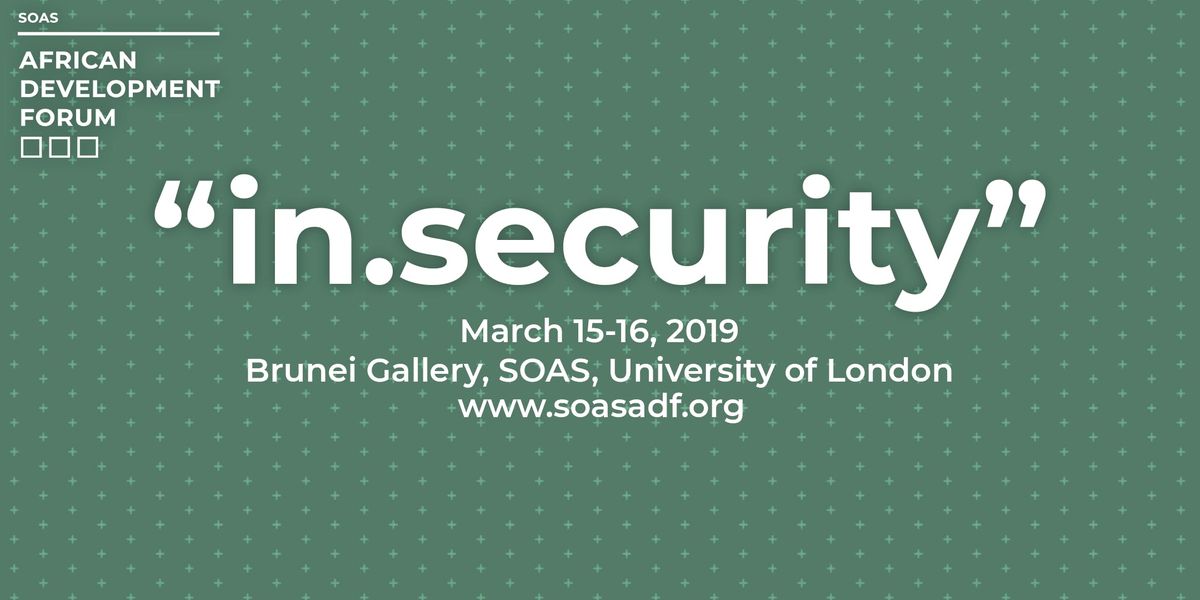 SOAS University of London, London, United Kingdom
Eventbrite
Spread the word
The 2019 Forum: Insecurity
Africa is in a state of insecurity.
This insecurity is fuelled by a series of various failures, conflicts, and differences that are either highlighted by natural events or taken for granted by leaders and officials. The security of human life is not dependent on the absence of possible external and internal threats to sovereignty, but also when jobs, healthcare, water, and other social amenities are invulnerable.
In March, the SOAS African Development Forum will present a conference on the current state of insecurity in Africa, and its prospects for development.
With 3 Keynote Speakers and 4 Panels, each with 4 panellists and a Chair, we offer:
**Access to the largest site on African expertise outside Africa
**Complimentary refreshments throughout the day
**Authentic African cuisine 
**1.5 days of engaging and thought-provoking debate
Speakers announced to date are as follows:
Keynote:
Dr. Ibrahim Mayaki - CEO of the New Partnership for African Development (NEPAD)
Panellists:
DISRUPTING AFRICA 
Chibundu Onuzo - Published Author and Teaching Fellow, SOAS
Awino Okech - Professor at SOAS
Olutimehin Adegbeye - Writer and Activist
Siyanda Mohutsiwa - Writer, Associate Professor, and Social Media Influencer
Wale Lawal - Oxford Scholar, Founder of The Republic 
GROWING AFRICA 
Mushtaq Khan - Professor at SOAS and Director of Anti-Corruption Evidence
Yinka Adegoke - Quartz Africa Editor
Victor Murinde - Professor and Director of SOAS Centre for Global Finance 
Said El Hachimi - Counsellor at World Trade Organisation 
FAQs
What's the refund policy? All tickets purchased are non-refundable.
Do I have to bring my printed ticket to the event? No, if you give your name at the door we will be able to check you in but please remember to bring a valid ID if you are a student.
Can I update my registration information? Yes. This can be done via an email to
soasadf | soas ! ac ! uk
please remember to update all attendees information up to two weeks prior to the event to ensure that names are accurate on name badges.
What time does the event start and end? On Friday, March 15 we will start at 5 pm and end at 8 pm, while on Saturday, March 16 we will start registration at 9 am and finish around 6 pm. Lunch will be provided and there are break times designed. 
Terms and Conditions
1. Please note that all tickets purchased are non-refundable except if the event is cancelled or significantly altered by the organisers.
2. SOASADF reserves the right to make alterations to the programme such as speaker line up changes but will endeavour to ensure that all speakers are of a similar calibre and stature.
3. SOASADF reserves the right to refuse admission to the venue.