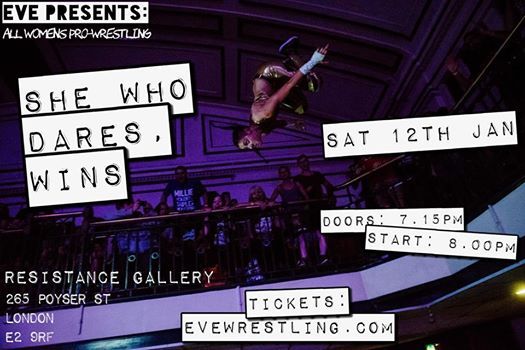 Resistance Gallery, 265 Poyser Street, Bethnal Green, E2 9RF London, United Kingdom, London, United Kingdom
Pro-Wrestling:EVE
Spread the word
Fight your way to the front of the crowd to see the famous feminist wrestlers from Pro-Wrestling:EVE" - Time Out Magazine
Witness the immersive, theatrical, shocking, comedic, live action stunt show and experience that is this punk, women's wrestling night out in London's East End!
EVE presents SHE WHO DARES, WINS on Saturday January 12 at Resistance Gallery, 265 Poyser St, Bethnal Green, London. E2 9RF.
Doors 19:15 - Start 20:00
Finish between 22:30 and 23:00
***
"EVE women's wrestling is more than just entertainment: It is a movement." - Buzzfeed
You've binge watched season two of the smash hit Netflix series GLOW and craving the real thing, so forget everything you thought you knew about this previously male-owned world and see what happens when feminism, punk and pro-wrestling are fused together to create EVE, an evening of death-defying, jaw dropping, action packed, wrestling stunts fueled with cabaret, comedy and so much more in a live event experience unlike any other!
So don't miss the critically acclaimed feminist, punk, women's wrestling & live event experience that is Pro-Wrestling:EVE when EVE hits London's East End on Saturday Jan 12 at Resistance Gallery in Bethnal Green!
Check out what the critics had to say about EVE Live Experiences:
*
"EVE is hitting Europe like a pile-driver!" - New York Post
*
"Their seriously empowering shows are a hit" – Refinery29
*
"[EVE is] re-imagining the classically hyper-masculine environment of 'professional' wrestling" - New York Times
*
"Real life superhero women wrestlers are kicking arse and empowering us all" - The Canary
*
"EVE's progressive liberal politics and ethos supporting women's rights, LGBT+ equality, body positivity and mental health discussions have helped create a wrestling promotion unlike any other" - Indy100
*
"Pro-Wrestling: EVE is redefining the game" - The Mirror
*
"I brought my sisters and a few friends and we had such an amazing time. Everyone should get to know EVE!" - GLOW Star & Musician Kate Nash
*
"This socially and politically conscious company is deservedly becoming not just the best wrestling gig in town but the best event full-stop." - Huffington Post
*
"Riot Grrrls of wrestling. EVE represents a grassroots feminist movement which celebrates women of all shapes and sizes. Wrestling quality is an important aspect, alongside a DIY attitude and a desire for change." – Metro
*
"EVE goes further than the scripts of GLOW and political restraints of WWE could ever allow" – The Independent
*
"This is a 21st century Shakespeare's Glove for Corbynista-chanting activists as much as it is for pro-wrestling aficionados" - Huck Magazine
*
"Totally punk rock" – Kerrang! Magazine
*
"The passion - of the women and the fans - is just immense...and inspiring." - WWE Hall Of Fame Superstar Mick Foley
*
"Female wrestling is officially trending thanks to these real life GLOW girls!" - Marie Clare