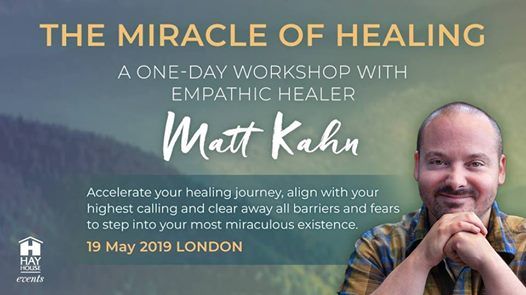 Tuke Hall, Regent's University London Inner Circle, Regent's Park, NW1 4NS London, United Kingdom, London, United Kingdom
Hay House UK
Spread the word
NOTE: Entering the Miraculous with Matt Kahn on 18 May 2019 in London has sold out. All tickets already purchased for Entering the Miraculous are non-refundable and non-transferable.
Hay House UK is delighted to welcome empathic healer, spiritual teacher and YouTube sensation Matt Kahn to the UK for his first-ever group healing events outside of the US. We have received an incredibly positive response and the full-day event in May has already sold out! On hearing this incredible news, Matt has asked if he could do another full-day event with us in London. This just-added event, The Miracle of Healing, will take place the following day on 19 May 2019. It will feature many of the healing processes, energetic activations and integration practices that have made Matt one of the most potent healers and celebrated spiritual teachers of our time.
Over many years Matt has offered the miracle of healing at his US retreats, with many participants experiencing groundbreaking shifts and transformations on a physical, emotional, mental and spiritual level. In what has become a cornerstone of Matt's group healing events, countless participants report feeling healed, awakened and transformed with effortless ease, often leaving as newly upgraded versions of themselves.
Now, for the first time ever, Matt will be bringing his potent, heart-centered approach to mastering the art of emotional freedom and helping you transform all aspects of your life to London. This just-added full-day workshop, The Miracle of Healing, will complement the transformation and expansion offered the previous day at the sold-out Entering the Miraculous event.
If you're already joining us for Entering the Miraculous, you may also want to join us for the second full-day event, The Miracle of Healing, to discover even more new and exciting healing techniques to support the evolution of your soul's journey. Even if you weren't able to get tickets for the first event, this full-day group-healing workshop, The Miracle of Healing, will be the perfect way to accelerate your healing journey, align fully with your soul's highest calling, and clear away all barriers, fears, doubts and distractions, so you may step forward into the joyful fulfillment of your most miraculous existence.
Come and find out what over 13 million YouTube viewers have discovered in Matt's rare naturally-born ability to alleviate and unravel the plight of human suffering. If you're ready to feel your best, live a life of Divine inspiration and enter your most love-filled, passion-driven reality, then please join Matt and the Love Revolution for the miracle of healing.
Matt Kahn, author of Everything Is Here to Help You and Whatever Arises, Love That, is a spiritual teacher and highly attuned empathic healer whose often humorous videos are a YouTube sensation. Ten million viewers feel more loved, awakened and opened to the greatest possibilities in life through his Love Revolution. He uses sensory abilities and direct knowing to feel emotions and pinpoint what blocks any heart from opening. He channels revolutionary teachings to assist energetically sensitive beings in healing the body, awakening the soul, and transforming reality through the power of love. Many seekers have awakened to their true nature through Matt's teachings and transmission of timeless sacred heart wisdom.
www.mattkahn.org
* Premier ticket holders will enjoy seating closest to the stage and exclusive goody bags!
Event schedule:
9–10am: Registration
10am–1pm: Morning session (will include a 15-minute morning break*)
1–2pm: Lunch
2–5pm: Afternoon session (will include a 15-minute afternoon break*)
5–6pm: Book signing
*All times are subject to change.
Please note that lunch is not provided.