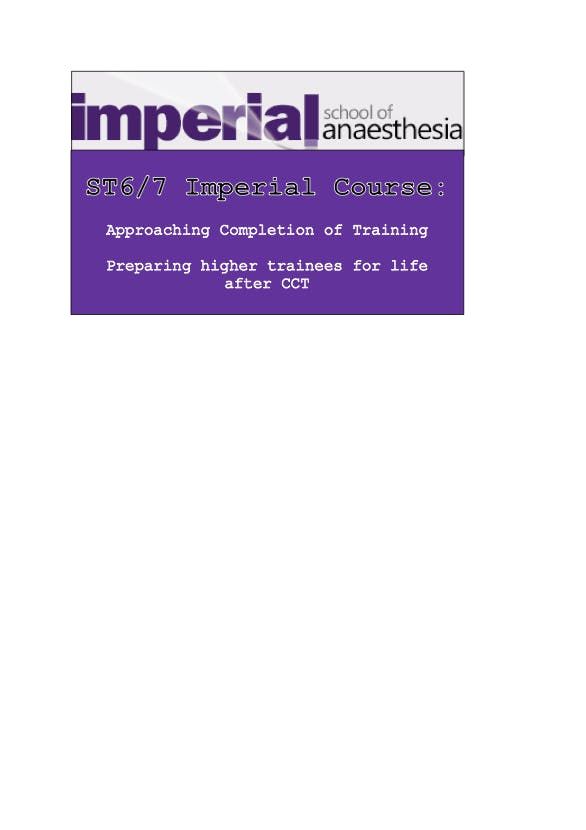 Chelsea and Westminster Hospital, 369 Fulham Road, London, United Kingdom
Eventbrite
Spread the word
This is the first in what is aimed to be a 6 monthly 1 day course for higher/advanced trainees in Imperial School of Anaesthesia aiming to prepare them for life after CCT.  The following is the current draft of events of the day, subject to further change prior to the day.
8:45 – 9:00 Registration
9:00 – 13:00 Lectures:
Consultant contracts 
Job plans
The application process/what to consider in the hospital you are applying for
The transition from trainee to locum consultant 
Educational Supervision
Quality improvement and clinical governance 
Writing a business case
Dealing with SUIs
13:00-14:00 Lunch 
14:00-16:00 Interview practice
SPECIAL GUEST SPEAKER: NALIN WICKRAMASURIYA, professional medical interview coach
16:00-17:50 CV clinic:  Limited spaces allocated on a first come, first served basis. Candidates will need to submit their CV by Monday 25th January to 
claire ! ruck | chelwest ! nhs ! uk
.  If they have not submitted a CV by this date, their place will be allocated to another candidate.
17:50 – 18:00 Feedback